August 30 Today Horoscope:Sunday: Bhadrapadamasam:

Shuklapaksham-Dwadasi
Aries Today Horoscope:

Chances are there will be more pressure today!

Your partners will be supportive and helpful. At work, stress at home can make you angry. You will find plenty of time to spend with your spouse after a long time. Take care of your health. For some, travel can be stressful, but it can also be financially rewarding. Avoid unnecessary conflicts. Do things carefully.

Remedies: Offer greenery to the cows for the happiness of the family members.
Taurus Today Horoscope:

Attractive return today!

Rest is important for you today. Your creativity skills, if put to proper use, will yield a very good attractive return. All the hard work you put in at work will pay off today. Today, any activity at home or coming around can be a waste of your time. Today is like spring in your life. Be happy with the partner.

Remedies: Read Aditya Hridayam to get a good health.
Gemini Today Horoscope:

You will be happy today!

A gorgeous day to spend happily with guests. Make a good plan with your relatives. Your professional programs need to be very active to make things run smoothly. An unexpected guest arrives at your home unexpectedly. So you have to spend the money for household needs. Today will be the best day of your life with your partner.

Remedies: Worship the Navagrahas to keep in good health.
Cancer Today Horoscope

: You will have expenses today!

Spend a peaceful and peaceful day with family members. If someone joins you for a solution to a problem, put them aside and do not let them irritate you. Control your expenses. Avoid spending too much on luxuries today.The investment made today will bring multiple attractive returns, but will probably face opposition from partners. Today is the most auspicious day for you.You will make good plans for your better future. However as the evening rolls on, all of your plans will be wasted.

Remedies:Worship Sriganapati, Lakshmi for a successful business.
Leo Today Horoscope:

Gains with Speculation Today!

Speculation Brings Benefits. In completing household chores, children can help you. If you do not get enough rest, you will fall into pessimism due to this fatigue. Your opponents in jobs will try to push you back. So you have to be very careful at work. Today, you will spend time with your loved ones. Share your feelings with them. Today your spouse will make favorite dishes for you.

Remedies:Do meditation, yoga every day for a great future.
Virgo Today Horoscope:

Be careful about health today!

You will get amazing business profits today. You get leverage to grow your business faster. Today you can take good care of your health, it will give you success. But, you have to give up anything that can destroy your strength. Plan your day carefully.Talk to people you trust and get support from them. Your tears will be wiped away by a special friend. This is a good day to implement new projects and schemes. Your spouse will do things that make you happy today.

Remedies:Do sun worship for good health benefits.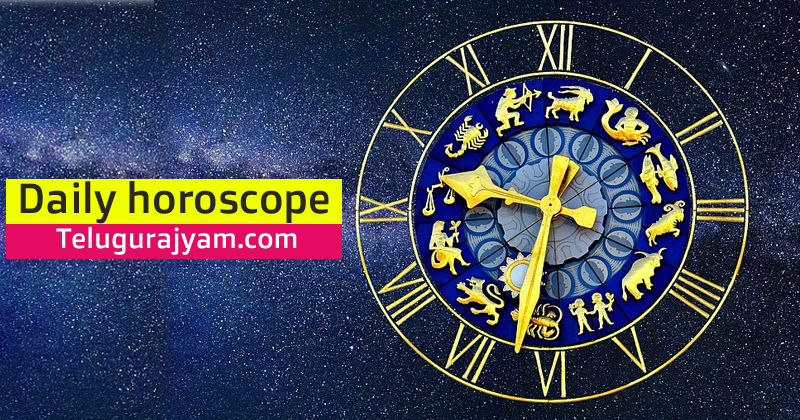 Libra Today Horoscope :

Benefit with changes today!

You benefit from the changes that come with work. You should not talk about gossips with others, it will waste your whole time. Today you spend a lot of time floating in the sweetness of physical bonding, in love with your spouse. Some important schemes will be implemented and you will get fresh financial benefits. Grandchildren can be the most delightful to you.

Remedies:Worship favourite God to make family life happier.
Scorpio Today Horoscope:

Elders today help financially!

Your maternal uncles or your grandparents will finance you. Relatives from far and wide will contact you today. You need to have a clear mind to make the right decision. You will get money from them on behalf of your grandmother today. Not such a good day for travel. Your work in the office can be appreciated.

Remedies:Read Sri Lakshmi Venkateswara Ashtotaram to enjoy family life.
Sagittarius Today Horoscope:

Take care of the needs of children today!

Your gentle demeanor will be appreciated. Today we are relieved from many financial problems. Take care of the needs of the child. A home without children is a soulless body, if not regular. It is the children who bring the greatest pleasures to the home. Don't bother seniors who are older than you. Sharing simple things with others is not good, and sharing your secrets without knowing what their thoughts are is a waste of your time and trust. This day will be wonderful for you in the presence of your spouse.

Remedies:Do Srishivaraadhana during Pradosha Kalam. Good results will come.
Capricorn Today Horoscope:

Be careful about letters and replies.

Your spouse's health may be a cause for concern to you. There is a need to be careful in the matter of correspondence. Financial court related matters are in your favor. This will give you financial gain. You will receive appreciation from the authorities for the work you have done in your offices today. You can get promotions because of your work. You seek advice from experienced people to expand your business. For most of the day, shopping and other activities keep you busy.

Remedies:Recite Sri Venkateswara Ashtotaram for a happy family life.
Aquarius Today Horoscope:

Today you are busy!

Be generous in resolving personal matters. The lectures and seminars you will be attending today will show you new ways to grow. Your gentle demeanor will be appreciated. Today you buy non-functioning electronic items. You read a book in your spare time, yet you and your family often disturb you. Today your spouse may be very busy with her friends. It will upset you.

Remedies:Recite Srihanuman Chalisa for continuous improvement in your financial status.
Pisces Today Horoscope:

Speak carefully today!

Think again before speaking. Your views should not offend anyone unnecessarily. For long-term purposes, investing is essential. It's time for children to get help with their home assignment. They will not only love you throughout the day in the office but will also help you. You set aside time for yourself today, but some emergency office work can cause your plans to fail.

Remedies: Recite the Srikankadhara Stotram for a happy life.