August 21 Today Horoscope

: Sravana Masam,Friday,Tadiya
Aries Today Horoscope:

Today's pending tasks willbe completed!

Sharing with others improves health. If you invest money in places in other countries they will get disposed off today, so you have a good profit. Pending homework will take up some of your time.Married people in this rashi spend their free time watching TV and talking on the phone after completing their chores. Disagreements can create conflicts between you and your spouse today. Doing the same thing every day or following the same monotonous routine can make a person mentally exhausted. You may also suffer from the same problem.

Remedies:Recite Sri Vishnu Sahasranama. Positive results will come.
Taurus Today Horoscope:

Unexpected costs increase!

Surely your financial situation will recover, but at the same time costs will also increase. More attention needs to be paid to the health of the parents. Today your time is wasted due to unnecessary work. Today your parents can bless your spouse with a wonderful object. It will greatly increase the happiness of your married life. Today is a great day for you to start something new.

Remedies:Worship of Sri Lakshminarisimha can help you in removing obstacles from family life.
Gemini Today Horoscope:

Blessings from a spiritual person today!

A day when a spiritual person pours blessings on you and brings peace. Your creativity skills, if put to the right use, will yield a very good attractive return. Love grows into a friendship bond. You may have a fight with your spouse today just because of your stress for no real reason. You put more emphasis on your beauty today,

Remedies:Recite the hymn of Sri Lakshminarayana.
Cancer Today Horoscope:

Save Money Today!

Try to reduce your cost.- Also buy what you need today. The idea that you want to save money comes into play. Today you will be able to save money. Your reckless attitude will cause your parents to worry.They need to be reassured about this before starting a new project. People will praise you as you always wanted to hear. Love, good food are the minimum requirements for married life. You will experience them to the best of your ability today.

Remedies:Worship Srilakshmi to live a happy family life.
Leo Today Horoscope:

Financially favorable today!
A friend / child may test your openness and patience. Be careful not to give up your values. Yet when making every decision, think rationally and move forward. It is financially viable for those who want to take their business abroad.A travel plan for business can be fruitful in the long run. Today you will forget all the painful moments of your married life. Only enjoy the wonderful present to the fullest.
Remedies:Worship Sri Vinayaka to promote peace and harmony in the home.
Virgo Today Horoscope:

Love to be alone today!

dults need to accumulate their extra energy to achieve good positive results. Employees want to get a fixed amount, but you can't get them because of the unnecessary expenses that have already been incurred. Don't forget to forgive your loved ones today. Knowing how rare time is,you prefer to spend it alone without spending it with others.It helps you very well financially. You may be dissatisfied with your spouse when it comes to grocery shopping. You will have your own world beyond relationships, today you will realize the reality.

Remedies:To improve financial opportunities, do sun worship.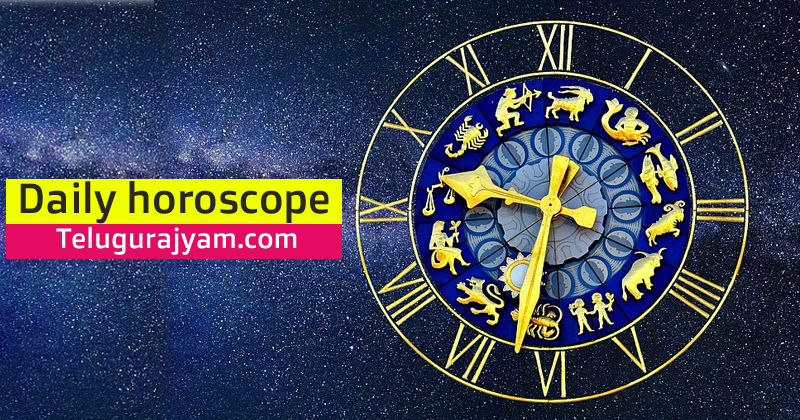 Libra Today Horoscope

:Financial deals today must be handled with care!

Use your high self-confidence to do good. You will be able to accumulate your inner strength even on the day of overwork. All contracts and financial transactions need to be handled with care. Parents, and friends will do their best to keep you happy. Your life partner can give you a wonderful surprise today. You will have a good time with your loved ones. This will make your bonds stronger.

Remedies:First apply red tilak on your forehead for improving your financial status.
Scorpio Today Horoscope

:Receive the praise of your superiors today!

Married people have to spend their money on their children's education. Thank your company and your family members for the support by which you got success, the joy, the good times . Your information, work skills, are appreciated. Good food, fragrances, pleasures, you will have a great time with your spouse. Pay attention to what you do today. It will impress your superiors and make them happy.

Remedies: Worshiping Vishnu will help in your financial progress.
Sagittarius Today Horoscope:

Happiness in the family today!

Feels very dull, to yourself, unlike normal days. Take some rest. Postpone your activities to another day. Going to the house of close relatives will increase your financial problems. Have simplicity in your behavior and have a good time with your family. Set aside your leisure activities and spend time with your children.By spending time with them you can find out what you are missing out on. You will have a good time with your grandmother today. Your mother will share your childhood memories with you.

Remedies:Do sun salutations for good health, do twelve sun salutations a day along with the rising sun.
Capricorn Today Horoscope:

Stay calm with patience today!

Your father's advice in professional businesses will benefit you. If you want to force any decision today, it's like you are harming yourself. Handle the situation patiently and calmly, for positive results. Your love life will be better today despite so many conflicts. You keep your loved ones happy too.In your spare time you will be as you like. Your spouse cares about your needs more and more like an angel today. It can be annoying to you in general. You control your anger.

Remedies:Health can be improved by placing 2 or 3 lemons near the birch tree.
Aquarius Today Horoscope:

Enjoy your children's success today!

It is financially viable for those in this Rashi who want to take their business abroad. Children will make you proud with their successes. Today your spouse can do something really special for you. Those who want to be good to you today will cook to surprise you. This will take away all the fatigue and tiredness you have.

Remedies: Light a ghee lamp near Lord Shiva during Rahu. Can have excellent health.
Pisces Today Horoscope:

Feel the sweetness of marriage today!

Health is good. Get immersed in some big mass event, it will be a lot more fun- but you will notice your costs increase. Children will help in completing household chores. You will be mentally calm.

Remedies:Distribute cooked rice to poor people for better financial condition.