For the third straight day, the Telugu Desam Party (TDP) legislators on Thursday took out a rally to the Andhra Pradesh Assembly condemning attacks on Dalits and minorities.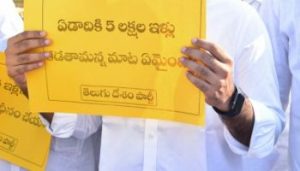 "We demonstrated for the protection of peace and safety in AP, including demanding justice for the victims," said TDP General Secretary Nara Lokesh.
Wearing shackles, Lokesh held a placard that said that an evil regime is ruling the state.
TDP national President Nara Chandrababu Naidu flashed a picture of Abdul Salaam's family, which recently committed suicide due to alleged police harassment.
Meanwhile, Lokesh retaliated against Chief Minister Y.S. Jagan Mohan Reddy by sharing a video in which he embedded a short clip where some women were seen singing paeans on him for his welfare schemes.
This comes after Reddy mocked Naidu in the Assembly on Wednesday, showcasing a video in which another group of women was seen singing triumph paeans to Naidu.
Reddy alleged that Naidu splurged Rs 83 crore public money for carting those women and others to the Polavaram project where they sang for him.
Even on Wednesday, TDP members walked out of the Assembly, demanding the withdrawal of the Assignment Lands (Amendment) Bill to allegedly prevent injustice to the weaker sections.