August 29 Today Horoscope:

Saturday: Bhadrapadamasam: Shuklapaksham-Ekadasi
Aries Today Horoscope:

Beware of financial transactions today!

Financial transactions need to be handled with care. Work hard for your family. All your actions should be done with love, with a positive attitude, not with greed. Plan well for satisfactory results.As you try to solve office problems, your mind will be clouded with tensions. Time is precious, and taking advantage of it will get the results you expect.However, flexibility in life, spending time with family is also very important, which you need to understand. Today you will experience the joy of your spouse side.

Remedies:Pray and praise Sri Lakshmi Devi with cow ghee to improve financial life.
Taurus Today Horoscope:

Today is a beneficial day!

Beneficial day. You can get rid of chronic illness. It makes you mentally happy. You get financial benefits today, but you use them for charity. Try to control your speech. Your harsh words can disturb the peace. You may have a fight with your spouse today just because of your stress, even if there is no real reason.

Remedies:Worship Saturn, recite hymns.
Gemini Today Horoscope:

Collaborate with colleagues today!

Today children and family are given priority. Since today is not a good day, check your money carefully and limit your expenses. Your co-workers will advocate for bringing about developmental changes in your work. You also need to be prepared to act quickly. Motivate the employees working below to work harder as they achieve positive results.Do not hesitate to let others know how you feel today. You know that your married life is going to be very boring. Try something new.

Remedies:Recite Srikanakadhara Stotram for an increase in your financial status.
Cancer Today Horoscope:

Get adequate rest today!

Today you are facing money related problems.So you should contact the people you trust. If you do not get enough rest, you will fall into pessimism due to this fatigue. Someone may flirt with you or make fun of you. By working hard and being patient, you will reach your goals. People will appreciate you as much as you ever wanted to hear. Lack of good mood can cause you trouble with your spouse today.

Remedies:Recite Sri Rama Taraka 108 times to make family life better.
Leo Today Horoscope:

Good health today!

If you give advice today, feel free to take it as well. If you get too busy at work, your temper tantrums will increase. When making any decision, try to understand the ins and outs of others. Health is good. Bank transactions need to be done carefully.Today is the time for your favorite community service. It also allows you to follow up on how they are going. There may not be much help from home today at work. That puts a lot of pressure on your spouse.

Remedies:Subrahmanya worship for an active career will soon result.
Virgo Today Horoscope:Don't worry about health today!
Meet someone at an event today, and with their advice you can strengthen your finances. Don't worry about your health, it can make it worse. Entertainment becomes fun when the whole family gathers. In terms of change of planets, there are chances of meeting a person who causes curiosity. Do not make hasty decisions. This is going to be the best day of your married life as you will have to repent later in life.
Remedies:Use copper utensils more to achieve a healthier lifestyle.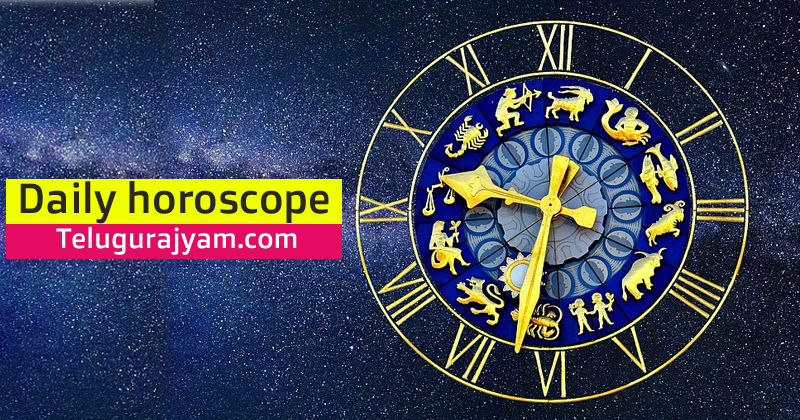 Libra Today Horoscope

:Good moments today!

You make some important decisions for business development. You get financial help from those close to you. Your kind nature today brings many happy moments. This is a good time for me to engage in youth engaging activities. Postpone new projects and expenses. Today you will try to complete tasks that you have not yet completed in your spare time. Marital life is pushing today more wonderfully than ever before.

Remedies:Worship Sri Venkateswaraswamy for prosperous business / sustainable work.
Scorpio Today Horoscope:

Profits in business today!

A relative cares in a difficult situation. Today women, because of men, men,because of women make profits in business. Do something a little different with them at home. All things at work seem positive today. Your mood will be very good throughout the day. In today's free time, tasks are designed to be started and unfinished tasks are completed. Today, after a very ordinary day, you and your spouse will have a wonderful time.

Remedies:Make Surya Namaskaras for amazing health.
Sagittarius Today Horoscope:

You will be calm today!

You get into a financial dispute with your spouse. Yet you will correct everything with your calm demeanor. When you have extra time, you can spend it with your hobbies or with friends, do what you love best.As long as you meditate only on your job, you will have success and recognition. Today is the most favorable day for you. Make good plans for your future. You will be happy with your spouse throughout the day.

Remedies:Do deeparadhana with cow ghee at home so that family life is sacred.
Capricorn Today Horoscope

:Relief from illness today!

Today your parents are advising you to save. Get rid of a chronic illness. You will face many problems in the future if you do not put them into practice carefully. Your energy capabilities in the workplace today are low, which can be caused by family problems. Businessmen need to be careful with their partners.They can harm you. After a long time your spouse will spend the whole day with you peacefully. There will be no fights or wars. Whatever you see is just bliss.

Remedies:Feed the ants to keep family life smooth.
Aquarius Today Horoscope:

Beware of the matter of expenses today!

Go to the homes of friends who need your help. You need to use your intelligence and worldliness in the workplace. Even if you make money be careful not to let it slip out of your fingers. In the process of meeting family needs, you forget to rest for yourself. But today you will spend some time for yourself. You get used to the new habits. Today you talk deep spiritual, things with your partner.

Remedies:Worship Srilaxmi Venkateswara for better financial opportunities.
Pisces Today Horoscope:

Profits at the end of today!

Even if you face financial problems all day, in the end you will see profits. Do not try to humiliate others. Your favorite dream will come true. But keep your choking excitement under control. Meet your family needs. Be careful today. So, do not divulge your thoughts until you are convinced that the guess is wrong. Lately life has been going very hard for you. But today is the day to be happy with your spouse.

Remedies: Worship Kula Daivam at home to be happy.