August 23 Today Horoscope

:Sunday: Sravanamasam: Panchami
Aries Today Horoscope:

Today is a beneficial day!

Unexpected travel can be very tiring, irritating to you, and today you can find good buyers for those who want to sell the place. This will make you blend in better. Make career decisions that suit your aspirations and they will yield beneficial results. You set aside all your work today and spend time with your spouse to surprise them. Your relatives may be the cause of the conflict with your spouse today.

Remedies:Recite the mantra Om Ganapati Yenamah 108 times in the morning for good health.
Taurus Today Horoscope:

Opportunities to work with energy today!

From morning till evening you work very hard in the office all day long. Today, if you invest in the word of others, the financial losses are likely to increase. Personal relationships can be damaged by differences of opinion. Make appropriate changes to improve your appearance and appearance to attract more powerful clients. Your spouse's laziness is likely to disturb most of your tasks today.

Remedies:Worship Srilaxmi Ganapathi to enjoy a good financial life..
Gemini Today Horoscope:

Results beyond expectations today!

Be careful not to say the wrong things at the wrong time because your financial situation is not in your favor. For those who are in foreign trade sectors the expected results occur.Employees in this Rashi also show their performance. If you are not careful about your belongings, they may be lost or stolen. The efforts you are making to change your married life for the better today will bring you happiness beyond your expectations.

Remedies:Do Surya Namaskaras, read Aditya Hrudayam for better health benefits.
Cancer Today Horoscope:

Today is a good day for this Rashi people!

For those who run small businesses, the advice of those close to them can benefit you financially. Getting the right information with someone you care about can lead to frustration. This is a very good day. Make the most of this day at work.Starting today will make you feel tired. As the day goes on you will get better results. Beware that in the end everything can be upside down if you do not consult with your spouse before planning anything today.

Remedies:Worship Shivaparvati for a happy family life.
Leo Today Horoscope:

Your sufferings will disappear today!

Postpone new projects and expenses. Today you have the opportunity to do your most favorite community service. If you borrow money from someone in the family, give it back today and your sister / brother will get your advice. Your spouse will take care of all your worries today. Health care. Stay away from conflicts and dinners.

Remedies:Worship Sriganapati with a white white jilledu for a thriving work life / business.
Virgo Today Horoscope:

Today you will get children support!

Your money will come to use if you cut down on unnecessary expenses. Today you will understand this very well. You will be little dull in health. So pay attention to the food you eat. In completing household chores, children can help you. Learn to take time off from your busy schedule and go out to make the days better. Your partner will make you happy today by describing your value in his life greatly.

Remedies:Worship Ganapati with maredu dalalu.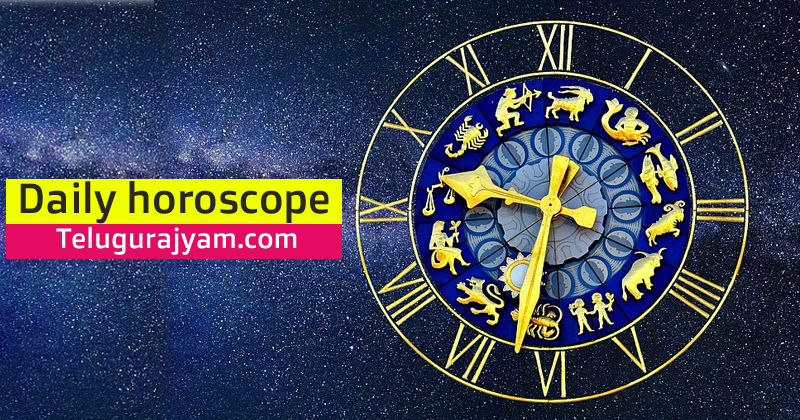 Libra Today Horoscope :

Good changes in the office today!

You are about to see a positive change in the office. It is a good idea to get work done on time so that you can set aside time for yourself at the end of the day. Change your mood by attending some social gatherings. One of your co-workers will steal your valuables, so you need to be careful about your belongings. Everything in the office can be in your favor today. Be happy with your spouse.

Remedies:For a wonderful financial life, read Sri Rama Stotram.
Scorpio Today Horoscope:

Don't Tell Anyone About Your Plans Today!

You get better results today because of the investment you have made in the past for future needs. Letting your family members know about your problems will make it easier for you. If you tell everyone too openly about your plans, your project will be ruined. Today your time is wasted due to unnecessary work. Most of your work today is ruined by your spouse's illness. Avoid unnecessary conflicts.

.
Remedies: Worship Sri Lakshmi for good relations with everyone in your family.
Sagittarius Today Horoscope: Today is a good day to start saving!
Family responsibilities tend to add anxiety to your mind. You are lazy today. Take precautions for health today. Those who are spending unnecessarily should control their expenses and start saving from today. Spend time happily with a partner. Stay away from trips. Do not travel unnecessarily and suffer losses.
Remedies:To enjoy family happiness, recite "Om Namo Ganasataye Namah" 28 times in a calm mind.
Capricorn Today Horoscope:

Drive vehicle carefully today!

The thirst for knowledge that you want to know can help you make new friends. Be especially careful when driving.If put your creativity skill to proper use, you will yield very good attractive returns. Resolve a long-running feud today. Success is yours if you make important decisions step by step. Learn how you can spend time with the little ones in the family. This will not be a problem for the family.

Remedies:Worship favourite God for good health..
Aquarius Today Horoscope

:Suitable for real estate investment today!

Children Spending too much time on other things other than future will result in disappointment. Do anything extraordinary today. Today you need to focus on land real estate, or cultural projects. Personal guidance can improve your relationships.

Remedies: Apply sindhur on Ganapati to live a happy family life.
Pisces Today Horoscope:

You will hear good news today!

Be prepared to accept any kind of the results. Do not invest money without consulting someone.You know what is best for you and so be bold and strong and take quick decisions. In the evening, unexpected guests arrive at your place. You can get good news today in the office. Today you don't care what others think of you, you don't like to meet others, you like to be alone. Enjoy spending time with your spouse.

Remedies:Worship Sri Lakshmi Ganapati along with Ishtadevataradhana to make family life enjoyable.