November 11, Month of Aasweeyuja, Wednesday
Aries: Spend time with a dear friend
Stay away from long-term investments. It's a day when your cheerful demeanour will make you feel even new acquaintances as friends. Go out and catch up with an old friend. Your abilities will work in your favour at work. Your spouse is likely to fall for you once again. Don't be surprised if they praise you to the moon.
Ritual: Give away badaam at Hanuman temple and make sure to take half of them home.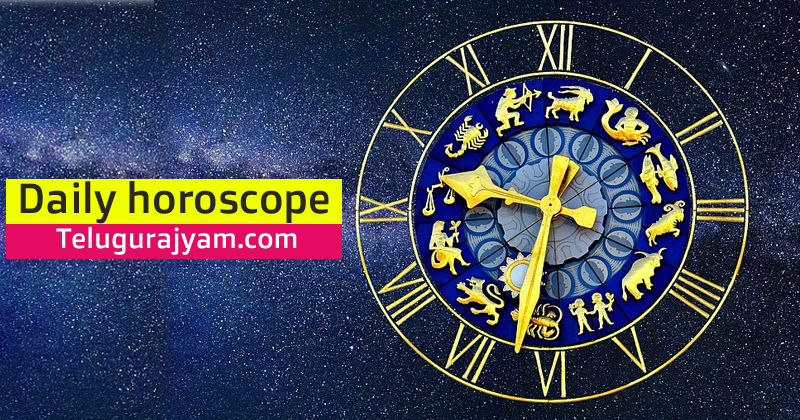 Taurus: It's a healthy day
You will be fit today. You are likely to experience strain. Pending arrears and other money will finally come to you. It's a very good day, so make use of the good time at work. Also, spend time for yourself. This will re-energise you. It will be a totally memorable day in your married life.
Ritual: Recite 12 names of Jyothirlingas for progress in life and business.
Gemini: You will spend money on education
Start your day with yoga and meditation, this will help a lot in how you feel. If you are married, you are likely to spend money on your children's education. Expect something good at workplace. But be careful, you could end up feeling low due to circumstances. Your spouse too could make you feel pressurised.
Ritual: For peace at home and happiness of your family, do tailabhishekam to Shani.
Cancer: Concentrate on your efforts
At work, put in efforts with full concentration as there are chances of you being tested for your capabilities. Despite financial transactions, you will end up saving at the end of the day. Partake in social activities with your family. According to your stars, you are likely to meet an interesting person. Travel will introduce you to new places and important people. Your spouse will put in all efforts to make you extremely happy.
Ritual: For good results at work and in business, burn chandideepam for goddess Durga.
Leo: Don't invest on immovable properties
Immovable properties could lead to great trouble, so keep away from such matters. Whoever you are living with, will admonish you for shunning responsibilities. You will have a good day. If you have been having a stressful time for a long time, then rest assured that this will be a favourable day.
Ritual: Install Ketu yantra in your puja room for better work and business prospects. You can also do Ketu dhyan.
Virgo: Good time to invest in stocks
For long term benefits, invest in stocks, mutual funds. Children could turn troublesome at home, but be patient while dealing with them. Partnership in business will work well, but you are likely to face some problems with your partners. Don't splurge while shopping. Today, your spouse could behave in a rather selfish manner.
Ritual: For good family life, chant Sri Matre Namah at least 108 times.
Libra: Safeguard your money
Business people must be careful while carrying money. There are chances of it being stolen. You will settle old loans and will wait for good news from a far-off place. Your marital life will be really good on this day.
Ritual: For better luck in finances, chant Om Sram Srim Srom Ketave Namah.
Scorpio: You will gain in business
Expect good gains in business. You are likely to take your business to the next level. To get your team to work together and bond well, you will be in a position to inspire them. It's also a good to make big land dealings. You will get time to spend with your spouse and you will understand what true love is.
Ritual: For family happiness, give milk and misri to Sri Saraswati Devi.
Sagittarius: Beware of financial troubles
Your nature will help you go ahead in life. For success, you will have to change your thinking. This will broaden your horizons. There could be financial troubles, so consult with your father or any father-figure. Don't neglect family. Expect good news at work. You will spend time with yourself, though the day begins on a dull note. During your 'me' time, you will meet those close to you.
Ritual: Pray to Jupiter, Mars and Shani for good prospects.
Capricorn: It's a day to clear your loans
Make sure to share your inner thoughts with your near and dear. It's a day when you will have to pay back loans which could lead to less finance on hand. Both at work and at home, you will come across as an angry person. Make changes to yourself and your attitude to attract best clients. In fact, the day will make you realise this.
Ritual: Pray to Lord Shiva for good health.
Aquarius: Problems hurting you will be resolved
With tact, you can resolve problems haunting you. You realise the importance of money and are clear that money saved today will come handy in future. You might want to play some sport, but be careful as there are chances of getting hurt. You will enjoy happy moments with your spouse.
Ritual: For happiness  of the family, do 27 pushpadhayans in Hanuman temple and offer a mix of five red flowers.
Pisces: Meditation will boost you
Do meditation as it will calm you down. You are likely to do consultations with your spouse regarding financial matters. News from far off place might leave the family concerned. At work, your ability and your talent will be on display. Surprises by your spouse will ward off your moodiness.
Ritual: For memorable life, donate red or orange coloured fruits in a temple.
Sivasri