Aries Today Horoscope : Don't overspend today!
Some losses must be caused by your negligence. A happy time with family and friends. There is a problem with your money. You are spending money excessively or putting it somewhere. Misbehavior to your spouse taluk today can have a great impact on you. Take care of the health thing.
Remedies:Recite Srilaxminarasimha Mantra for Financial Prosperity.
Taurus Today Horoscope:Money flows fresh today!
A new financial deal can come to a screeching halt and money can flow fresh. A good day to spend time with others. Your spouse's health can cause you stress and anxiety. Being proactive and responsive in a timely manner will give you the upper hand. It will be difficult for students of Irashi today to pay attention to their studies. Spend your precious time with friends. Expenses can ruin your bond with your spouse today.
Remedies:
Chant the name "Om Narasimha Vapushenamah ' dialy to improve health.
Gemini Today Horoscope:Get help from friends today!
Those who are struggling financially with salaries today ask their friends to lend them some money. Others will enjoy by praising your successes. Notice what you are talking about when you are ten. Today you will find that your partner's love is for you. There are also some disadvantages to married life. You may have to experience them today.
Remedies: Do Shivaradhana. This will increase the economic benefits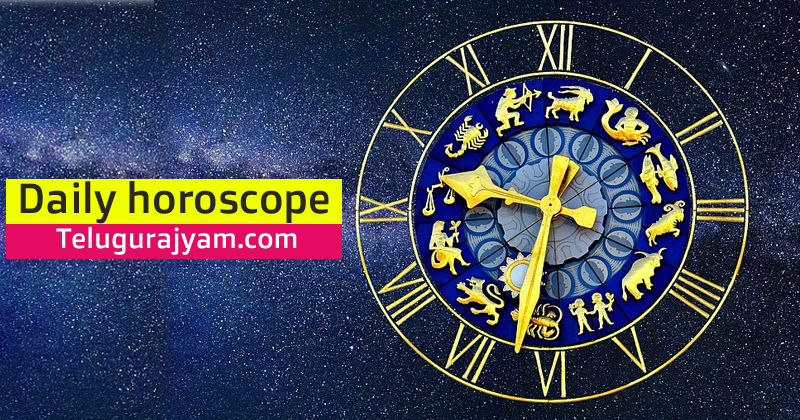 Cancer Today Horoscope:Hear the good news today!
Today you will face problems when repaying debts to them. Get rid of a chronic illness. Unexpected good news from distant relatives brings happy moments throughout the family. Responding quickly to problems means that you gain special recognition and respect. Be happy with the partner.
Remedies:To get a good professional life, chant the name "Om Namo Bhagwate Vasudevayanamah".
Leo Today Horoscope:Sibling contribution today!
Doing things with friends is fun. Time, work, money, friends, family, relatives all on one side, just a day when your love partner stands on the other side. You will receive supportive contributions from your siblings today. Talking with famous people will give you good ideas. Spend your evening with your coworker today. The time you spend at the end is considered unnecessary and wasted. Your married life will be better today.
Remedies: Do Sivaradhana and Abhishek for health
Virgo Today Horoscope:Beware of problems at home today!
You will get support from your siblings today. The changes you make physically, will improve your appearance today. Problems can arise at home. This is a wonderful day to negotiate with new clients. If you have been waiting a long time for something exciting to happen in your life, you must find relief. You may be in trouble with your spouse today
Remedies:Worship Sri Lakshmi for a happy family life.
Libra Today Horoscope :Get rid of illness today!
Today you are financially better than ever. You also have enough money. Get rid of a chronic illness. A happy time with family and friends. Complete pending tasks. A day of good events, a day of mixed events, a day that will leave you confused and tired. Your spouse will give you a special time today.
Remedies:Donate food to the poor. This will bring profits in the profession.
Scorpio Today Horoscope:Today neighbors ask for financial help!
Do not trust third party words if you want your love to be stronger and happier. Someone around you may be asking for financial help. This is a wonderful day to negotiate with new clients. You will happily remember the old days with your life partner today. Take care of health matters.
Remedies: Recite the name Omvidhatrenamah to get rid of health problems.
Sagittarius Today Horoscope: scope for financial loss today!
Do not allow your children to abuse your generous nature. Exercising sluggishness in business or employment can cost you financially. Forget things like controversies, office politics. Today you are the King at your office. Those who stay away from home spend most of their free time in a quiet place. If you've ever been in love with your spouse, today is the happiest day you can find it.
Remedies: Enjoy a happy family life through the worship of Sri Gurugraha.
Capricorn Today Horoscope:Today the dream will come true!
Even if you make money you will not be able to hide because of the increased costs. Your favorite dream will come true. Your friends will give you some good advice about your personal life. With the advent of competition, the work becomes tedious. A travel plan for business can be fruitful in the long run. Today you and your spouse will be happy with good food
Remedies: Doing meditation will give Gets peace of mind
Aquarius Today Horoscope:Chance to hear the good news today!
Unexpected good news from distant relatives brings happy moments throughout the family. Asteroids are more likely to help you recover from an illness. Not good for employees today in the workplace. One of your coworkers will betray you. This will make you sad all day long. Today you can receive a wonderful surprise for marital happiness.
Remedies: Worship Sri Lakshmi Ganapathi for Career Advancement and Success.
Pisces Today Horoscope: Today money can ruin relationships!
Your intelligence will be useful to you today. Even though money is important to you, you should be sensitive to it and not ruin the relationship as you would feel if your friend was not with you. When making a big business deal, keep your emotions in check. Use it to complete tasks that you have not completed in the office for some unavoidable reason. All your weaknesses will be removed by your partner.
Remedies: Do Suryanamaskars for better health.