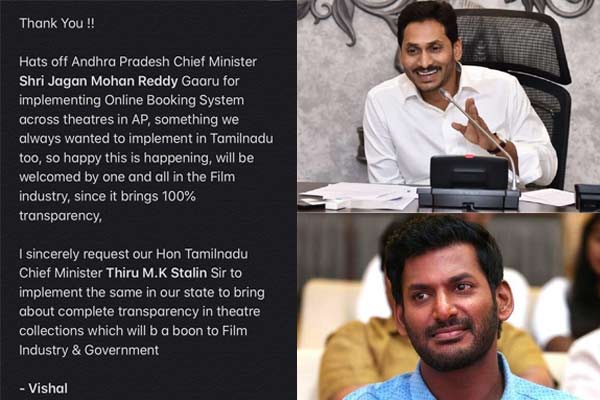 Tollywood celebrities have been planning to meet AP CM Jagan Mohan Reddy to discuss over slash in ticket prices in theatres which are badly impacting the performances of the films in theatres during the covid times. They are planning to convince CM Jagan to withdraw the GO passed by his government to slash ticket prices.
However, Jagan came with another proposal to start an online ticketing platform for theatres in Andhra Pradesh on behalf of the government. This shocked many and some even expressed their views against them.
In the midst of all this, Jagan's online ticketing plans got unexpected support. Kollywood hero Vishal who has Telugu origins born in Tirupathi, sharing his views came with the following post showering praises on AP CM Jagan's decision.
He posted "Hats off AP CM @ysjagan Gaaru for implementing Online Booking System for theatres in AP, something we always wanted to implement in TN too, so happy this is happening. I sincerely request our TN CM @mkstalin Sir to implement the same in our beloved state of Tamilnadu!!,"