Telugu Desam Party (TDP) Legislators held a protest march to the Assembly on Tuesday, demanding that the YSRCP-led government hand over the completed Andhra Pradesh TIDCO (Township and Infrastructure Development Corporation) houses to the poor families immediately.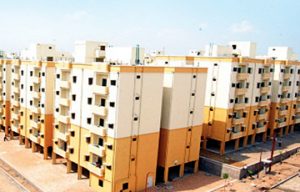 The TDP MLAs and MLCs raised slogans and held placards as they marched in protest on the second day of the Assembly's winter session.
According to the opposition TDP legislators, the construction of TIDCO houses was completed during the previous TDP government regime and alleged that the Jagan Mohan Reddy government is not allotting them for political reasons.
The TDP leaders vowed to continue the protests until the houses are allotted.
TDP General Secretary Nara Lokesh alleged that Chief Minister Y. S. Jagan Mohan Reddy said that all the houses would be allotted free of cost before the state elections but he failed to live up to his promise.
TDP National President and former Chief Minister N. Chandrababu Naidu and party state President K. Atchannaidu also participated in the rally.