BJP Nacharam Division Anumula Ashwatthamareddy's wife Vijayalathareddy committed suicide by swallowing sleeping pills. The incident took place on Thursday evening within the confines of Nacharam police station. Family members rushed her to a local private hospital. Doctors said Vijayalathareddy's health was stable. Vijayalathareddy contested from Nacharam division as a BJP candidate in 2016 and lost. Her family members alleged that former MLA NVS Prabhakar had cheated her by not giving her a ticket.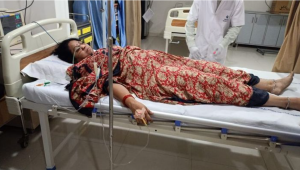 Former corporator B. Bharathi, who had been hoping to get a chance as a TRS candidate for Venkateswara Colony division in Khairatabad constituency, was disappointed. Sitting Corporator Manne Kavitha, who has been pardoned by CM KCR and Minister KTR for her performance, has opted for supremacy. With this, Bharti did not get a ticket. As part of the appeasement drive, MLA Danam Nagender, candidate Manne Kavitha and in-charge MLA Bhanuprasad reached Bharathi's house on Thursday and appeased her. 
MP K Kesava Rao handed over the nomination papers to his daughter Vijayalakshmi and blessed her to win GHMC elections from Banjara Hills division. Even in the 2016 election, she took her father's blessings before her nomination and Won a solid victory in that election. Sentimentally this time too she took the blessings. Vijayalakshmi said on the occasion that her father was an inspiration to her.