The conflict between tribals and forest department over the lands under cultivation by the former in parts of Telangana has surfaced again with a tribal legislator belonging to the ruling Telangana Rashtra Samithi (TRS) threatening a 'war' over 'podu' lands.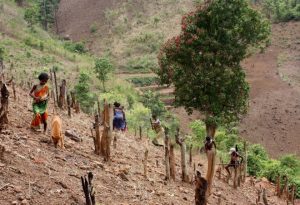 Rega Kantha Rao, who represents Pinapaka Assembly constituency in Khammam district, has asked the tribals not to allow forest officials to enter villages and if they do detain them.
He asked sarpanchs, members of Mandal and district level local bodies, party leaders, and workers to take the responsibility of preparing people for the fight with forest officers.
"Let's take on the forest officers occupying podu lands, otherwise our livelihoods and lives will be at stake," he stated in a social media post.
Rao, who is also a government whip, said primitive tribes have been cultivating forest lands for generations and depend on these lands. He had earlier warned that if forest officials continue to 'occupy' 'podu' lands, the district collectorate has to be shut down.
'Podu' cultivation is a form of shifting cultivation. The issue of 'Podu' lands is a bone of contention with forest officials trying to enforce the law in forest areas and those involved in 'Podu' farming resisting it.
The problem is more in erstwhile districts of Adilabad, Warangal, and Khammam districts.
This is not the first time that an elected representative has openly threatened to take the law into his hands.
Last year, BJP MP from Adilabad Soyam Bapu Rao had asked tribals to beat up and drive away forest staff who take up plantation on 'podu' lands and also uproot the saplings planted under 'Haritha Haram'.
He had given the call after fee incidents in which the forest department personnel carrying out afforestation came under attack.
"If required beat them up I will take care of you. Need not worry about forest staff," Bapu Rao had said.
'Haritha Haram' is a major plantation program taken up by the state government. Crores of saplings are being planted across the state under this project to increase the green cover.
The tribals alleged that plantation on podu lands violates their rights, guaranteed under the Scheduled Tribes and Other Traditional Forest Dwellers (Recognition of Forest Rights) Act, 2006.
The forest officials, however, argued that they took up plantations on government lands. According to the Forest Rights Act apply only to those lands which were under cultivation before December 2005.
In the Kothagudem district alone, there are over 4,000 pending claims for 'podu' lands. The tribals have been demanding authorities to issue land ownership pattas.
Vasam Ramakrishna Dora, convenor of the Adivasi Joint Action Committee, said that tribals cultivating podu lands for decades are being driven out by the forest department. He alleged that forest officials are taking away their lands every year.
On June 30 last year, a woman forest official was attacked by a group of people, allegedly led by the brother of ruling TRS MLA, in Kumaram Bheem Asifabad district when the forest personnel was taking up plantation under 'Haritha Haram'.
Such incidents were again reported this year when forest personnel went to some villages to plant the saplings on 'podu' lands.
In July, police booked 14 tribal farmers and a tribal rights activist for allegedly obstructing forest officials from planting saplings on podu lands in Bhadradri Kothagudem district.
Tribals also tried to stop forest officials from planting saplings in the Nimmapalli of the Karimnagar district. Police forced were to be deployed to control agitating tribals.
Tribals claimed that they were cultivating this podu land for the last 30 years.
Forest Minister A. Indrakaran Reddy has already clarified that the issue of granting rights on forest lands that are under cultivation by tribals rested with the Central government.
The Scheduled Tribes and other Traditional Forest Dwellers (Recognition of Forest Rights) Act, 2006 was a Central Act and it has exhausted its limit.
He, however, advised tribals not to take the law into their hands.
"You can protest on the issue and even apprise the Chief Minister of it but nobody can take law in his hands. The forest department is doing its duty to protect the forests," he had said
Tribals recalled Chief Minister K. Chandrasekhar Rao had promised to visit the districts and address the issue of 'podu' lands. They are still waiting for the Chief Minister to intervene in the matter to protect their rights.