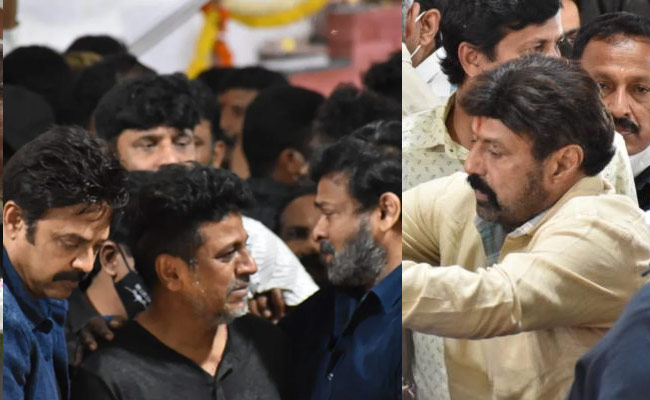 Sandalwood Star Puneeth Raj Kumar passed away due to cardiac arrest on October 29th. The film fraternity across the country got shocked as the news as Puneeth was just 46 years. Tollywood is starstruck as Puneeth shared good relations with many top stars of the industry.
All the top stars Chiranjeevi, Balakrishna, Venkatesh, Srikanth, Rana, Ali, NTR, and others flew to Bengaluru and paid their final respects. While consoling the family members of Puneeth, all of them broke down inconsolably. According to the latest, Puneeth Raj Kumar's final rites were performed with full state honors today.
His brother Raghavendra Rajkumar's son and young hero Vijay Rajkumar performed the last rites at the Sree Kanteerava Studio in Bengaluru. Karnataka chief minister Basavaraj Bommai bid an affectionate goodbye to Kannada superstar Puneeth Rajkumar early on Sunday morning before the final procession at the Kanteerava Stadium. While paying his last respects, Bommai became emotional. Folding his hands before the mortal remains of Puneeth, he was tearful and bid goodbye and affectionately kissed his forehead.