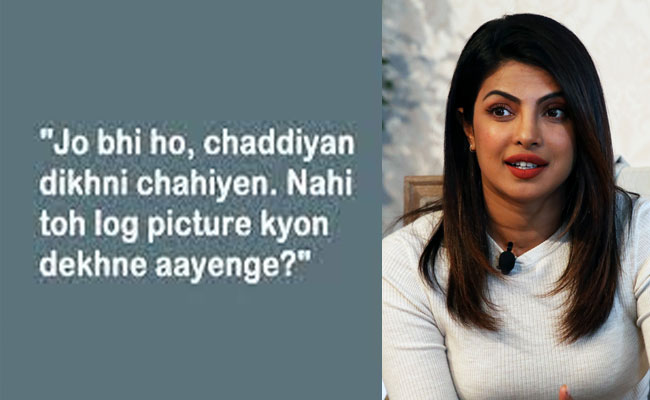 Priyanka Chopra is known for her breathtaking performances and sensuous glamor treat giving sleepless nights to movie lovers. Priyanka in her memoir Unfinished, came with a shocking revelation.
Speaking about a director in a film in which she was supposed to do the erotic song, she said "The director suggested I speak to my stylist, so I called him and briefly explained the situation, then passed the phone to the director. Standing right in front of me, the director said: "Jo bhi ho, chaddiyan dikhni chahiyen. Nahi toh log picture kyon dekhne aayenge?" she wrote.
Though Priyanka did not do the film, she regrets not giving left and right to the director. Priyanka once again revealed "the director was sitting on his chair in a really entitled way, and then he takes the phone and goes, 'Listen, people are going to come into the movies to watch her when she shows her panties. So it needs to be really short, so I can see her panties. Do you know those people sitting in the front? They should be able to see her panties".