Some of the words spoken by Sohel on the Bigg Boss show have come true. Sohel once told Mehaboob how it would be if the Both Amma Rajasekhar and Mehaboob were in the nomination. Eventually the same thing happened. Elimination came between Mehaboob and Amma Rajasekhar. However, the nominations were cancelled that week due to Noel's departure. Hence Sohel's word came true.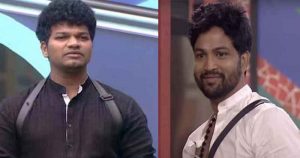 He again told once to Mehaboob that Ariana would be one amongst the Top 5. Sohel also told that there would be one day he and Mehaboob would both be in nominations together, which eventually turned out to be true. During one weekend there was a situation where only the two of them were left to be saved of them Sohel got safe and Mehaboob got eliminated. 
In yesterday's episode Sohel and Avinash were spotted in the garden area where we could see Avinash asking Sohel if he will get eliminated this week? To which Sohel responded asking what dress he would wear this weekend, Avinash said whatever the family sends he shall wear that, to which Sohel countered back stating request them on the camera to send a nice dress as it should look good on stage. Does that mean Avinash will be eliminated from the show this week? Even Netizens are targeting to eliminate him this weekend. The chances of Avinash being eliminated this week are high. But with the possibility of escaping eliminations through an eviction free pass, he is easily saved.