Bigg Boss Telugu 4 is currently at its peak and the show is getting even more interesting than before. The nominated contestants for this week were Abhijeet, Harika, Monal, Sohel, Ariyana and Lasya. Amongst the nominated contestants everyone thought Monal would be evicted from the show this week.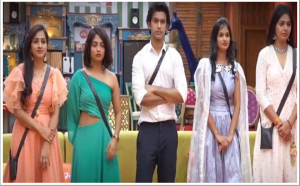 Star Maa also has released a promo where everyone was dancing happily in it. We could also see Nagarjuna mentioning about the elimination saying the competition is increasing day by day. Netizens who saw the promo say they already know who would be eliminated from the show. But in Friday's episode, Monal supported Harika, not Akhil in the captaincy task. For having faith on her she ensured Harika won the captaincy task.
While Sohel who carried Akhil and Avinash who carried Abhijeet on their shoulders could not stand for a long time and went down on their knees soon which let Harika win the task who lost the captaincy task for seven times. As a result, Monal received more votes in a single day on Friday. At the last minute, she pulled Lacy down and went to the top and was able to escape the elimination this week.