Telangana chief minister KCR is all out to hit out not just at BJP, but also Narendra Modi in particular. There was a time, when KCR didn't seem to have such bitter animosity with Modi. However, eventually, things began to go sour between TRS and the saffron party.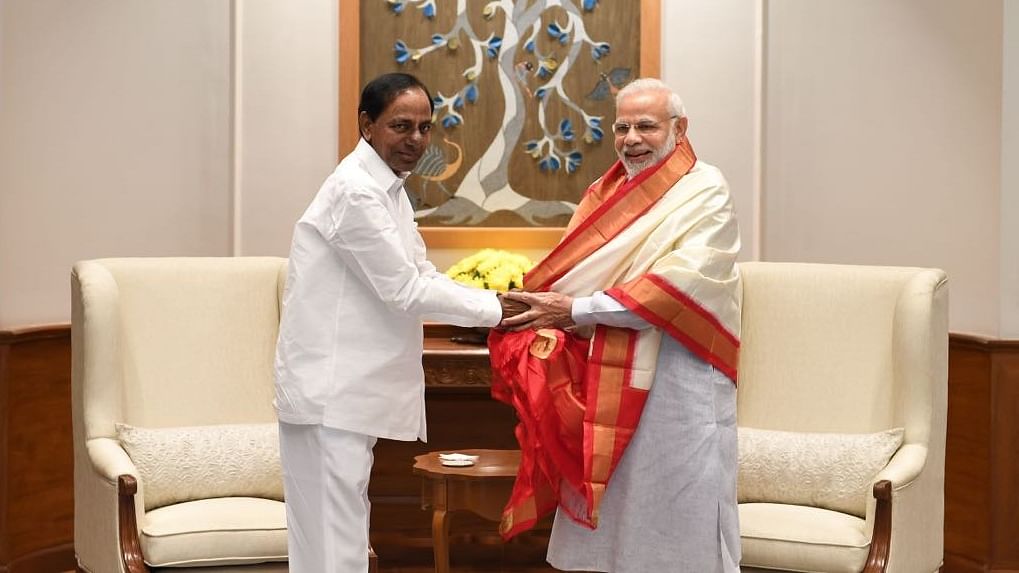 One of the main reasons for this spite is the fear of losing power in the state for KCR. BJP has been slowly but steadily consolidating its stand all over India. Even hardcore regional parties have been able to survive only due to alliance with the saffron party.
In states, where there was no strong local party, or where there was public discontent against ruling party, BJP has pulled the rug from under their feet and established itself.
On a normal day, KCR would have been confident of GHMC win. But the situation has changed in the country. Amit Shah has become a mascot of sorts for the BJP. His entry and campaigning in any state has brought success to the saffron party. The party has already built a strong base in the north, west, and north-east. It is now eyeing West Bengal and the south.
KCR even got the Telangana Election Commissioner to announce GHMC polls on December 1, to have a head-start in the game. This move is expected to give little time for the opposition parties, especially BJP to come up with a good list of candidates or even campaign widely to gain base.
This apart, KCR has been calling Narendra Modi's government anti-people, anti-farmer and anti-workers. He has also called for a federal front comprising opposition and regional parties. He has also mentioned that he is willing to take up an all-India agitation on the lines of Telangana agitation to oust Narendra Modi and BJP from power. He claimed that he had already spoken to West Bengal chief minister Mamata Banerjee, Kerala chief minister Pinarayi Vijayan, Delhi chief minister Arvind Kejriwal, Odisha chief minister Naveen Patnaik and DMK chief MK Stalin, son of late Karunanidhi. In addition, he claimed to have spoken to former chief ministers of UP, Maharashtra, Punjab, Karnataka — Akhilesh Yadav, Sharad Pawar, Prakash Singh Badal and HD Kumaraswamy along with CPI and CPM leaders.
Tamil Nadu will be going to polls in 2021. Upon Amit Shah's visit to the state, AIADMK chief and CM of Tamil Nadu EK Palaniswami has reiterated that they will go for an alliance with the BJP.
Karnataka is already a strong-hold of BJP. Andhra Pradesh CM YS Jagan Mohan Reddy is an ally of BJP.
So Modi and Amit Shah's next focus will be on Telangana. Already leaders like MoS Kishen Reddy and BJP state president Bandi Sanjay have launched a direct attack on KCR and his government.
Politics is like a game of roulette. Looks like KCR will have to play his game carefully given his urge to be noticed as a leader with a national imprint. Else, he could go the way of Chandra Babu Naidu.