Prime Minister Narendra Modi has taken on the opposition parties in a direct attack at a meeting addressing farmers and the nation in Madhya Pradesh. He sprinkled his speech with various examples and numbers about how his government was committed to the farmers, unlike the opposition parties who are trying to instigate the farmers.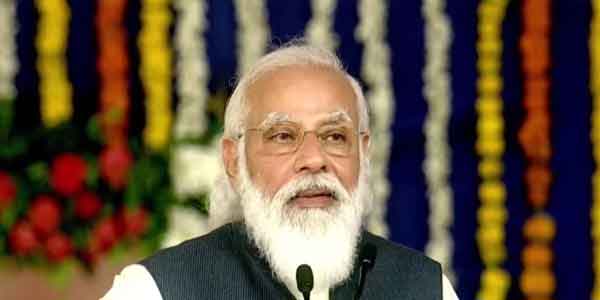 Modi said that the opposition was trying to shoot from the shoulders of farmers by spreading lies. Prime Minister pointedly said that 'last government' was misguiding gullible farmers, six months after the farm bills were passed.
Modi stated that it was his government that got out the Swaminathan committee report and implemented it. He accused the past government of sitting on the report for a good eight years.
And the Prime Minister said it was this opposition party that played vote-bank politics through farmers. Modi asked the farmers to look at the plight of farmers and Rajasthan who are still waiting for loan waivers following elections. All they got was bank notices and police warrants, he said. It has become a bait to lure farmers to vote via loan waiving promise. However, nowhere did the party stand by its word. Of course, some of their supporters or their relatives did get the benefit. Some big farmers got waivers and this was enough for the party to flaunt its role, shared PM Modi.
Prime Minister said that it was only fair to allow the farmer to sell his produce where it is most profitable. The mandis are there and there are other options. So, it is best for the farmer to decide where he wants to sell. Farmers should have that kind of freedom in this country. The government will not direct a soap maker or any other manufacturer to sell at one place and not at another. Similarly, farmers must have a free will.
"Our intentions are as pure as Ganga jal or Narmada. Through PM Kisan Samman Yojana, we are helping farmers in a holistic manner," said PM hitting out at the opposition.
He gave the example of how urea market was set right. In older times, people were lathi charged for standing in long queues for urea, through the night. Now things have changed, shared Modi. He disclosed that new, modernised fertilizer plants will be set up Gorakhpur, Baroni, Sindri, Talcher, Ramagundam, which will make India 'atmanirbhar'.
He also mentioned various ideas of infra boost for farmers. Modi listed out irrigation projects, solar projects which will transform 'anna daatas' into 'urja daatas'.
Modi also said that special emphasis was being placed on bee keeping, animal husbandry and fisheries. "Experts say that with little investment in fisheries, farmers can reap most returns," explained PM.
He pointed out that his government's agenda was not about cheating farmers, but of empowering them.
He challenged opposition parties to point out a clause that they are against.
Spreading fear about things that are not happening and things that won't happen are being used to agitate farmers, said before concluding his speech.
Narendra Modi said he is willing to talk to farmers if they find any lacunae. He informed that he will once again address the farmers on December 25, which also happens to be the birthday of Atal Behari Vajpayee.