Telangana registered 753 new coronavirus cases, taking its total tally to 2.68 lakh, even as 952 more patients recovered from the virus on Saturday. Active cases now total 10,637 in the state.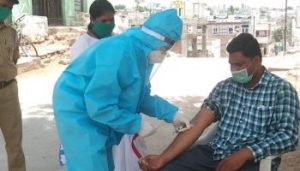 Hyderabad accounted for the highest 133 new cases, followed by Medchal Malkajgiri (78), Rangareddy (71), Karimnagar (47), Nalgonda and Khammam (38 each), and Bhadradri Kothagudem (36).
New cases were also reported from Warangal Urban (33), Suryapet and Jagityal (22 each), Mancherial and Sangareddy (18 each), Peddapalli (15), Yadadri Bhongir (13), and Warangal Rural (12).
Only three patients succumbed to the virus in the past 24 hours in Telangana, taking its Covid death toll to 1,451. Telangana has a 0.54 percent fatality rate, as against the national average of 1.5 percent.
Meanwhile, the state continued to record a significant number of recoveries on a daily basis, which are outnumbering infections.
As many as 952 more patients recovered, taking the total such cases to 2.56 lakh.
With the testing of 41,991 more samples, the total crossed 53.7 lakh in the southern state. The state has tested 1.44 lakh samples per million population.
-IANS