In a stunning development, the technical analysis wing (TAW) of Andhra Pradesh's Chittoor district police managed to recover 277 lost and stolen cell phones worth Rs 40 lakh in a month's time.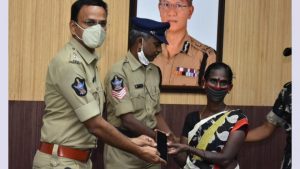 Chittoor police managed to recover phones which were lost in the past year, deploying tech-savvy engineering graduates who joined the constable ranks of the district police.
"With an aim to strengthen the technical acumen of the district police, superintendent of Police S.P. Senthil Kumar designed some special initiatives," said a police official.
As part of Kumar's plan, as many as 20 B. Tech and M. Tech graduates from constable ranks were trained and the TAW was formed.
"The TAW was instructed to work on cell phone missing cases in the past one year and within a month's time, 277 phones worth Rs 40 lakh were recovered," said Kumar.
The district police recovered phones not only from the state but also from Tamil Nadu, Karnataka, Telangana, and Kerala.
As there is a possibility of lost or stolen phones being used for nefarious activities, police advised such people to report any cases.