New York City's coronavirus test positivity rate on a seven-day average went up to 6.25 percent, compared with 6.22 percent 24 hours earlier, Mayor Bill de Blasio tweeted said.
There were 182 new hospitalizations and 2,632 new cases of the coronavirus in the city, Xinhua news agency quoted the Mayor as saying on Sunday.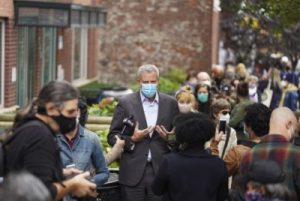 On December 18, the Mayor had said that "more than 11,000 Covid-19 vaccinations have been administered in New York City", while retweeting Health Commissioner Dave A. Chokshi's post which said that "NYC is making good progress in vaccinating our health care heroes".
"Despite the snowstorm, all 44 hospitals slated to receive the Covid-19 vaccine had it delivered and began administering it. So far, 11,152 people have received their first dose," the post added.
On December 17, the Mayor said that a fresh lockdown could come right after Christmas.
"We'll keep working with the state, they make the final decision, but I think it's something that has to be put into effect soon based on the very consistent information we're seeing," he had said.
New York City currently accounts for 24,677 coronavirus fatalities and 377,229 confirmed cases.