In the past 24 hours till Thursday morning, 164 places in Andhra Pradesh witnessed rainfall of more than 60 mm as the very severe cyclonic storm Nivar lashed the whole state. According to the Meteorological department, five places in Nellore district registered the highest rainfall — APFT Colony (302.7 mm), Boggulamitta Ward (272.7 mm), MPP School (264 mm), Summer storage tank (242.7 mm), and Thatipatri (239.5 mm).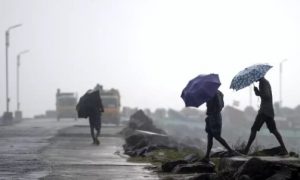 Chittoor district Collector Narayan Bharat Gupta said an average of 8.6 cm rainfall lashed a few places in the district on Wednesday."Varadaiyapalem, Yerpedu, Srikalahasti, Satyavedu, Nagulapuram, Vijayapuram and Narayanavanam mandals witnessed rainfall more than 12 cm," said Gupta. Due to heavy inflow, he said the gates of the major reservoirs were being opened to release water. Advising caution to the public, the Collector said people should not attempt to cross the roads even if the water flow is less.
"We request you to stay at home safely for one or two days until the situation gets better," said Gupta. He said the district administration shut roads in K.V. Puram and Pichapuram because of the heavy outflow of rainwater. Such is the severity of Nivar that most parts of West Godavari district have been witnessing rainfall since Wednesday night.
It has been continuously raining from around 9 p.m. on Wednesday night in Bhimavaram and several villages in its vicinity such as Seesali, Bondada, Kalla, Kallakuru, Doddanapudi, Chinnapulleru, and others. It did not rain in these places during the day time on Tuesday, but it was windy and mildly sunny only for a short time. "It is already 12.30 p.m. on Thursday and it is still raining. Rain in the winter season is very unusual in our place," Talluri Raj Kumar, a YSRCP leader from the West Godavari district told IANS.
Kumar is an aquaculture farmer growing shrimp in his paddy field converted into a pond. He said, "A day's rain is okay, but continuous rain for 2-3 days is not safe for the shrimp". Thousands of aquaculture farmers grow shrimp in this part of the state and are worried about the inclement weather. Similarly, Nivar rains have also affected thousands of paddy farmers who started salvaging their crops from whatever was left after the recent heavy rains and floods in October. However, all their efforts are severely affected by Nivar.
–IANS