Dr. Thirumala Devi Kanneganti was born and raised in Telangana. She received her undergraduate degree at Kakatiya University, Warangal, where she majored in Chemistry, Zoology, and Botany. She then received her M.Sc. and Ph.D from Osmania University. She joined St. Jude, in Memphis, Tennessee, USA, in 2007.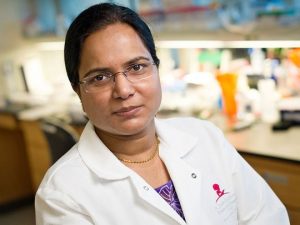 A scientist from Telangana, has found a way to treat Kovid-19. She has been working at St. Jude Research Hospital in the United States for the past 13 years. Details of her research were published in the Cell Journal. It is known that various organs of the body are affected by the virus after infection with Kovid-19. In this context she has done research on the origins of damaging various organs. 
Understanding the pathways and mechanism driving this inflammation is critical to develop effective treatment strategies", said Dr Kanneganti, vice chair of the St Jude Department of Immunology. 
It has been found that some cells die, especially due to the virus. She found that other organs were damaged by the death of these cells. She was also able to detect Cytokines that cause cell death. She is of the opinion that this research can find the exact answer to a particular problem. The research is useful for the treatment of other diseases.