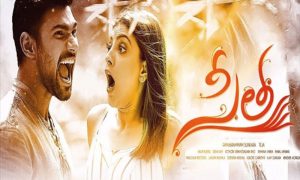 Sita Review: Not so impressive
Title: Sita
Starring: Bellamkonda Sai Srinivas, Kajal Agarwal, Sonu Sood, Tanikella Bharani etc
Director: Teja
Producer: Anil Sunkara
Music Director: Anup Rubens
Introduction: Once popular director Teja is planning to make a comeback which he did with 'Nene Raju Nene Mantri'. He did his latest 'Sita' starring Kajal Agarwal and Bellamkonda Sai Srinivas. Let's see if he could sustain his success with Sita.
Story: Kajal Agarwal is a self-centered business-woman. She gets to sign an agreement of one-month live-in relationship with the dreaded MLA (Sonusood). As she gets her work done by the MLA, she flees from Sonusood and goes to Bhutan. She finds her properties are passed on to Raghu Ram (Sai Srinivas). How she gets rid of Sonu Sood, gets her property and realizes her love for Raghu Ram forms the rest of the story.
Analysis: Director Teja had written a female-centric script which is okay to some extent. Portraying the male lead as an innocent man with a heart of gold isn't the current trend. It certainly doesn't go well with the audience. The main plot – rich business lady falls for an innocent man seems old school. The first half of the movie is okay with the villain chasing the lead pair and the funny dialogues among the villain group were good. The second half had many loose ends and unexpected twists and turns. Kajal did well in her role and this is the first time she is essaying a meaty role. Bellamkonda Sai Srinivas did well and unlike his earlier films, this film has no item songs and heavy action sequences. But this may not benefit his career in any way.
Finally: 'Sita' is not impressive enough