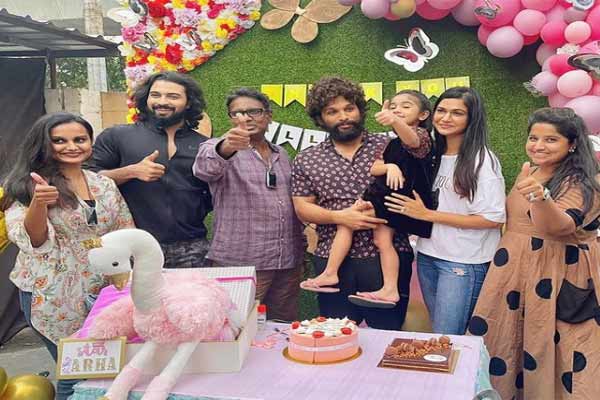 Allu Arjun's girl Allu Arha is debuting on screen playing the part of Prince Bharata in Gunasekhar's legendary mythological movie Shakuntalam. As indicated by the most recent, Allu Arha finished her part of the shooting in Shakuntalam.
The makers gave her a fabulous farewell, making her cut the cake in the sets. Indeed, even Allu Arjun and his wife Sneha also went to the event. The pictures of Allu Arha cutting the cake is circulating around the web via social media.
Allu Arjun expressed gratitude toward Shakuntalam makers sharing his sentiments ' Thank You Gunasekhar Garu, Neelima guna, and the entire team of Shakuntalam for this sweet memorable gesture. The way you and your family pampered her is unforgettable". Lead roles are being played by Samantha and Dev Mohan as Shakuntala and Dushyant in Shakuntalam while Mohan Babu is assuming the role of Durvasa. Fans are super excited for the release of this movie and are awaiting to watch Allu Arjun's daughter debut.