The Supreme Court of India today gave its verdict on Sushant Singh Rajput's suicide case. In a shock to Rhea Chakraborthy, the Supreme Court ordered a CBI probe into the case.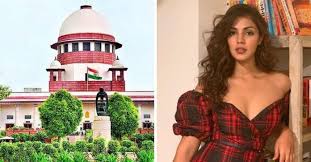 Justice Hrishikesh Roy delivering a 35 pages long judgement in the Supreme Court ordered the CBI to take control over the Sushant Singh Rajput's suicide investigation. Supreme Court asked Mumbai cops to help CBI in their investigation. The Supreme Court of India shocked the Maharashtra government refusing to give its lawer permission to challenge the verdict saying that it is now a court ordered investigation.
It is known that Sushant Singh Rajput's father KK.Singh,lodged a complaint against Rhea Chakraborthy and her family at Rajiv Nagar Police Station in Patna July 25. Even as Patna police started their investigation, Mumbai cops already filed an acidental death report on June 14 and started their investigation. Rhea moved to Supreme court seeking transfer of case in Bihar to Mumbai jurisdiction.
With so many suspicions and murder allegations over Sushant Singh Rajput's case, the entire incident has been hogging the national headlines with Sushant's fans accusing Rhea of abetting the murder of Sushant Singh Rajput and Maharashtra government trying to save her.