Tollywood actor Prabhas' recent Rajamouli-directed two-part film Bahubali has garnered a huge craze in the market along with a great reputation as an actor nationally and internationally. Prabhas' outstanding performance as Amarendra Bahubali and Mahendra Bahubali in those two films was highly praised by the audience. After that, the audience came to the forefront for Sahoo movie.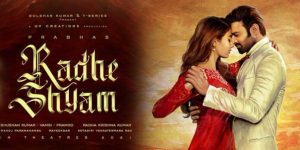 The film starring Shraddha Kapoor as the heroine was directed by Sujit and produced by UV Creations at a huge cost. Radheshyam is Prabhas' latest film. Pooja Hegde will be making her acting debut opposite Prabhas in the film, which will be directed by young director Radhakrishna Kumar and produced by UV Creations and Gopikrishna Movies. The latest schedule for the film, which was shot long before the lock-down, took place in Italy. Director Radhakrishna is said to be making this film by mixing various commercial elements as a retro love story. 
In some of the recent action scenes related to this movie, it is said that Prabhas acted mostly without dope. The whole Radheshyam unit was horrified to see the adventures of Prabhas in those scenes. However, not only in this film but also in many other films in the past, Prabhas has done some real stunts, Prabhas thinks that doing so will make the audience feel real. Manoj Paramahamsa is the DOP for the film with music by Justin Prabhakaran. However, after completing post-production it will be brought before the audience in the summer of next year.