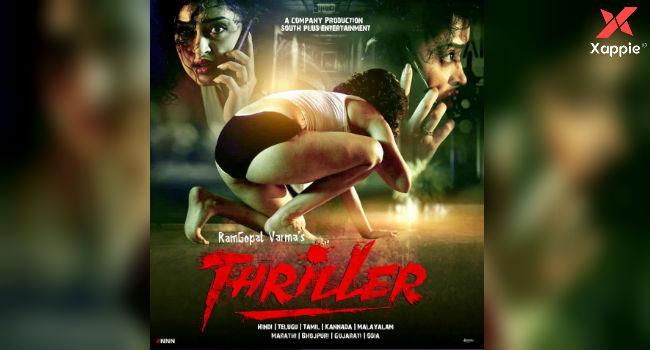 Rating: 1.5/5
Cast: Apsara Rani,Rock Kachi
Director: Ram Gopal Varma
OTT: Shreya's OTT
Storyline
Megha (Apsara Rani) considers Sameer (Rock Kachi) as a good friend. She treats him in that manner only. However Sameer tries to woo her as he wanted to have s3x with her. Both go to a party along with a friend Vishal. Sameer decides to drop Megha at her house after the party on return. He tries to get his wish fulfilled but Megha avoids him saying she will offer herself only after marriage. They enter into Megha's house and they experience some shocking incidents.
To find out whether Sameer becomes successful in his attempts and what obstacles he faces,what connection they have got to do with the shocking incidents, watch Thriller on OTT.
Starshine
Apsara Rani provided ample beauty treat to viewers. She oozed with glamor and her no holds barred and uninhibited beauty treat gave sleepless nights to everyone. She also came up with credible performance.
Rock Kachi also performed well and their chemistry worked out well. However at times he fizzled out infront of Apsara Rani. Others performed according to their roles.
Director's Special
Ram Gopal Varma as usual decided to concentrate on the beauty and curves of the female lead rather than come with a passable story. He came with a substandard story with no real interesting elements. To the top of it,he failed completely with his narration. He failed with his story,screenplay and direction. Except for Apsara Rani there is nothing to rave about the film.
RGV took people for a ride promising to offer a lot but offered nothing after making htem pay Rs 200 for just 22 minute duration short film. He failed to throw light on Rock and Megha's characters also. He tried to concentrate on the weakness of the youth and cash on to the present trend and didnot concentrate on even one sccene.
He tried to over expose the glamor of Apsara Rani and repeated whatever was shown in the trailer and tested the patience of the viewers. Even those who love porn content will find nothing in Thriller.
Technicals
Music is below standard and BGM failed miserably. BGM failed to elevate the scenes and this reduced the interest of the viewers on the film. Cinematography is also not at all effective. Most of the camera angles are weird and it spoiled the mood of the people. Ram Gopal Varma failed to come with a good story and dialogues are below standard. Production values are average.
Viewers Verdict
Thriller fails to Tempt!