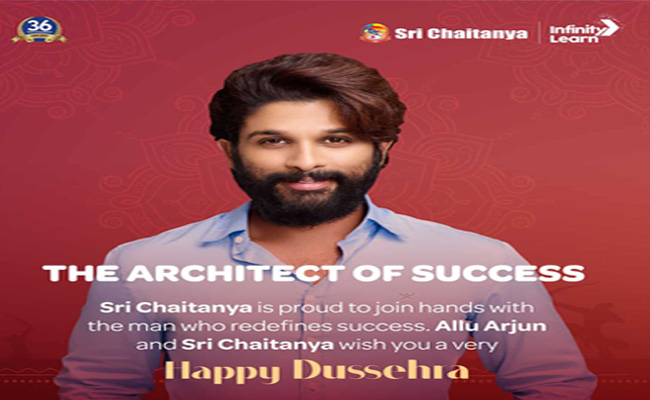 Sri Chaitanya Colleges happen to be one of the top colleges in Telangana and Andhra Pradesh. The educational institutions started the journey in 1986 with a junior girls college in Vijayawada and quickly gained a reputation as the top educational institutes. According to the latest on Dasara, the educational institutions surprised all by greeting people on the occasion and happily announcing that Stylish Star Allu Arjun is now its brand ambassador.
Allu Arjun's new ad endorsing Sri Chaitanya Educational Institutions is now going viral on social media. In the commercial, Allu Arjun is seen endorsing the institutions saying "Mee success kosam Sri Chaitanya ni enchukovaadam lo matram Taggedhe Le."
Allu Arjun enjoys a huge fan following among all sections of people in Telangana and Andhra Pradesh and surely Sri Chaitanya Colleges brand name will expand owing to Allu Arjun's name and fame across the south.