Though TRS got a healthy share of seats in the Loksabha polls (9), it is not in continuation with the people's mandate that it has received during the December 2018 assembly election. Surprisingly, BJP surged ahead in Telangana with 4 parliamentary seats. Congress settled only for three.
The election result can be seen as a change in the Telangana political dynamics. However, the transformation of people's mandate in a short span of time after the December assembly polls is something that has to be studied deep by TRS. BJP has successfully captured three additional seats in Telangana apart from its regular Secunderabad seat, thanks to TRS's failure to check farmer issues. With this, BJP has crossed Congress to become the second most influential party in Telangana if we go by the current trend.
For Congress, though the results might not be as expected, they have improved when compared to the past debacle in December. Revanth Reddy winning from Malkajgiri is definitely a boosting factor for Congress in the coming days. However, the bad news for them is BJP has become its main opponent in Telangana too!
TRS, on the other hand, failed to withhold its position in Nizamabad also the constituency of the Chief Minister's daughter Kalvakuntla Kavitha. The lose can be largely attributed to farmers' agitation which the State government failed to tackle. Kavitha failed to form the Turmeric board as demanded by the Nizamabad farmers, which eventually lead to 160 farmers contesting against the government. Also, TRS lost its stance in North Telangana viz., in Karimnagar and Adilabad which has to be a wake up call for TRS for sure.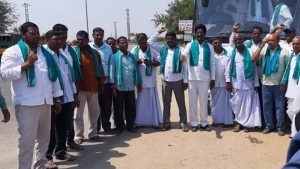 The bottom line is schemes like Rythu Bandhu cannot sustain the plight of a political party in a longer run. It is the duty of the incumbent government to address key issues which demands larger public interest as soon as possible, failing which results like Nizamabad repeats. Also, it must be noted that poeple have voted for a particular party as per their interests, TRS has encouraged defection to the extent that their exists no opposition in Telangana and hence, political analysts believe that the public has opted for a stronger opposition through their vote. At the end of the day, political dynamics in Telangana is changing and its not going to be a single party dominance any more. Its time for TRS to focus on healthy governance.