The US presidential election process is complete. Kamala Harris has been elected Vice President of the United States. Kamala Harris set a record as the first woman vice president. The nature of the election has changed with the entry of Kamala Harris, who is of Indian and African origin. A woman has so far not been elected to the post of president and vice president. Only Hillary Clinton entered the presidency in 2016 which She lost. Although Geraldine Ferraro first entered the ring as the Democratic Party's Vice-Presidential candidate in 1984, she was defeated. Sarah Palin, who ran as the Republican Vice-Presidential candidate in 2008, faced a similar situation.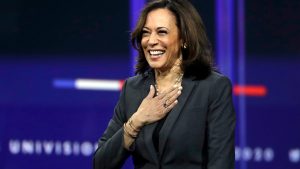 With the announcement of Kamala Harris' candidature, donations are pouring into the party, with    $ 26 million in donations to the party in a single day, is a testament to the public craze over her candidacy. This is evidenced by the fact that not a single woman has been elected to the highest rank in the two centuries of history of independence. This history was surpassed by Kamala Harris. Expatriate Indians in particular, and expatriate African Americans, rejoice in the success of Kamala Harris. 
It also benefited Joe Biden with the announcement of Kamala Harris as Vice President. Expatriate Indians, blacks, and African Americans sided with Democrats. In a way, it is an undeniable fact that Kamala Harris is behind Joe Biden's success. Thus, Kamala Harris won a landslide victory in the US election. Kamala Harris has now been elected Vice President. She is likely to run for the US presidency in the future. Her fans are already saying that Kamala Harris will be in the presidential ring in the 2024 presidential election. The hard work of Kamala Harris in the next four years will lead her a path to enter White house. If the same happens, Kamala Harris will set a record as the first black woman to receive the US presidency. On the whole she is expected to ascend the highest pedestal ever in the superpower.