The Tamil daily newspaper 'Dinamalar' on Friday published an article saying that the TDP members were commenting on Chandrababu's attitude that 'you have lost with the unwise decisions taken during the last elections and you are heartbroken to see YS Jaganmohan Reddy moving forward with political ingenuity'.
Here are the details of the article published under the title Irugu 'Enn Inda Vaitrerichal' (Why Stomach Inflammation) The party leaders are reluctantly commenting on TDP chief Chandrababu as to what is the point of seizing the NDA alliance.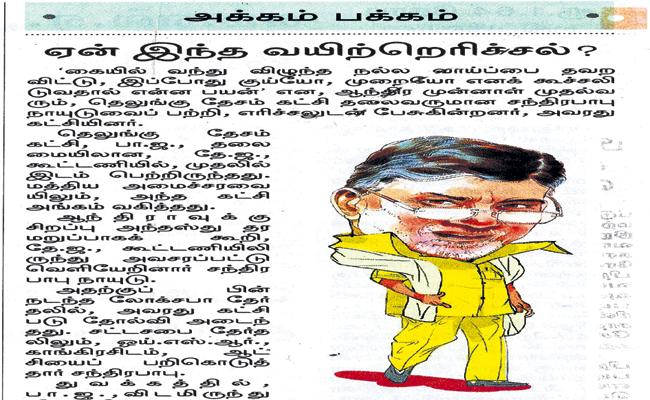 The TDP continued in the NDA alliance. Chandrababu withdrew from the alliance before the Assembly elections. Chief Minister YS Jagan, who was initially at odds with the BJP government, has been close to the party for some time.
If he joins the NDA alliance, he is also likely to hold the post of Union Cabinet. Knowing this, Chandrababu is gossiping that YS Jagan is betraying the people in AP. TDP leaders are criticizing him for feeling jealous of Jagan, 'the article said.