Poor voter turnout was witnessed in the first four hours in the Greater Hyderabad municipal elections on Tuesday as only 8.9 percent of voters had cast their votes till 11 am.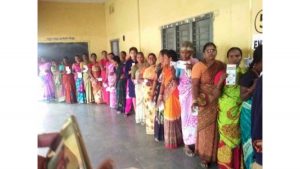 Polling stations in many divisions of Greater Hyderabad Municipal Corporation (GHMC) were almost deserted in the first couple of hours due to chilly weather.
Polling began on a dull note earlier but gathered some momentum as voters queued up at polling stations after 8 am.
State Election Commissioner C Parthasarthy said that polling was peaceful. "The polling process is being observed through webcasts and micro-observers and all steps are being taken to ensure that no untoward incident takes place," he said after casting his vote.
Polling was stopped in five polling booths in Old Malakpet after complaints that party symbols of two parties were changed in the ballot paper. Communist Party of India (CPI) demanded halt to the polling as its symbol was printed as the symbol of the Communist Party of India-Marxist (CPI-M). State Election Commission (SEC) stopped the polling till further orders.
Sporadic incidents of clashes between rival parties were reported from some divisions.
There was a slight tension in the Chaitanya Nagar colony in Patancheru due to a clash between TRS and BJP workers. TRS MLA Mahipal Reddy's son allegedly attacked a youth for wearing 'khandva' of another party. Police intervened to control the situation.
Voters at some places in Ziaguda and Chandrayangutta complained that their names were missing from the voters' lists. They alleged that their votes were deleted without verification.
The polling began at 7 am at 9,101 polling stations in all 150 divisions. The process will continue till 6 pm.
A total of 74,67,256 persons are eligible to cast their votes. They include 38,89,637 men, 35,76,941 women and 678 others.
The polling is through paper ballots instead of Electronic Voting Machines (EVMs).
A total of 1,122 candidates are in the fray. Ruling Telangana Rashtra Samithi (TRS) is contesting all seats, BJP has fielded candidates in 149 divisions, Congress in 146, TDP in 106, MIM in 51, CPI in 17, and CPI-M in 12 divisions.
Other recognized parties have fielded 76 candidates while 415 independents are also testing their political fortunes.
Telangana Rashtra Samithi (TRS) working President KT Rama Rao, Union Minister of State G Kishan Reddy, and MIM chief Asaduddin Owaisi were among the leaders who cast their votes in the first hour of the start of voting.
BJP OBC Morcha president K Laxman went to a polling center in Chikkadpalli to cast his vote.
Majlis-e-Ittehadul Muslimeen (MIM) president and Hyderabad MP Asaduddin Owaisi cast his vote at Shastrippuram in the old city.