People are wondering whether PM Modi can ride on Pawan Kalyan's power. It is known that BJP-Janasena entered into an alliance in AP. The two parties have been together for more than six months. However,there are no records of those parties working together since then. After the announcement of the alliance, Pawan Kalyan was confined to Hyderabad due to the Corona virus. Somu Veerraju, the newly elected president of the BJP, also went to Hyderabad and met Pawan.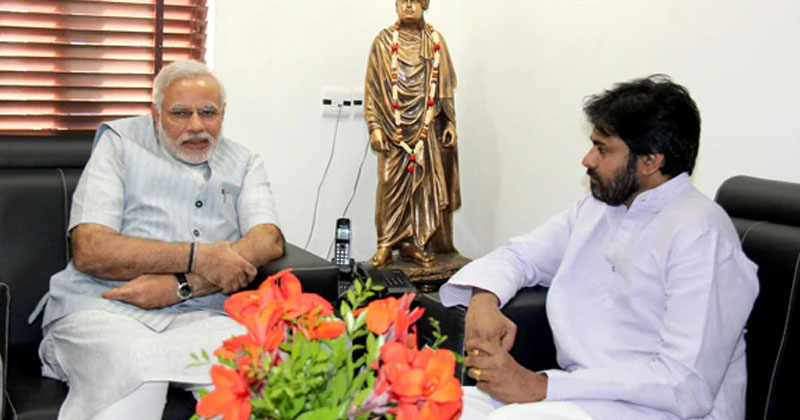 Pawan Kalyan also clarified one thing in the context of the alliance. He said the two parties would contest together in the local body elections. Local body elections have been postponed due to the corona. The government is not even ready to hold these elections. It is not even known when the elections will take place. YS. Jagan's Government is planning to hold elections only after corona reduces. But even before that by elections for Tirupati parliament constituency will happen.
Against this backdrop, the BJP is all set to stand in the Tirupati ring. However, if the two parties compete together in this election, it will be their first election. The BJP strongly believes that attacks on Hindu temples and the Chief Minister Jagan Declaration controversy in Thirumala will come together after the YCP comes to power.
In fact the Janasena is stronger than the BJP in the Tirupati region. Jana Sena has little cadre and vote bank compared to BJP in all the seven assembly constituencies under the Tirupati Parliamentary constituency.
On the other hand, it is learned that Pawan Kalyan wants to field the BJP candidate in this by-election as well. Information that Pawan has decided to leave the candidate even though his party has the strength as the by-election is related to Parliament. Pawan even asked BJP to field a strong candidate from Tirupati.
It is understood that the two parties have decided to take the Tirupati seat into their own account anyway. But the question is can Modi and Pawan Kalyan realise their electoral dreams in the temple City of Tirupati overcoming the powerful candidates from YS. Jagan Mohan Reddy's ruling YSRCP and Chandra Babu Naidu's TDP.