Arrangements for the mega family house wedding are in full swing. Arrangements for Nagababu's only daughter Niharika and Chaitanya's marriage seems to have almost completed. Information is that they are sending out invitations to very few relatives and guests with keeping Covid regulations in mind.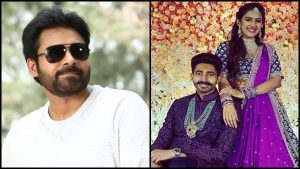 Power star Pawan Kalyan, a member of the mega family, is currently busy shooting for the movie Vakeel Saab. However, Pawan Kalyan could not attend the engagement of Niharika and Chaitanya. Many are skeptical that will he even attend the wedding as rumours are rife that he is busy shooting for Lawyer Saab. However, Sources say that Niharika took a promise from Chiranjeevi and Pawan Kalyan that they should definitely come to her wedding and she had specially invited them. It is rumoured that the two will be attending the wedding. 
As per the sources from the film industry, Vakeel Saab whose shooting is currently on will be halted for a week in December as Pawan will be attending Niharika's wedding. Pawan will be joining his family two days before the wedding and participate in the celebrations.