Samantha deserves as many tags as the Tollywood Queen Lady Superstar. Usually if a heroine is married everyone thinks that if the heroine gets married, her career is over. The same pattern continued with many actresses. But Samantha erased all of them. She wrote a new formula, said No one could never stop anyone. After her marriage, Samantha's career turned around and brought her more stardom than ever before.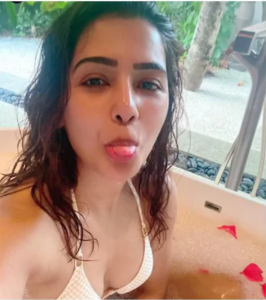 After her wedding, Samantha has had super hits and blockbuster hits and she has become C/o address for female Oriented films. However, after marriage Samantha did change in one thing which was not wearing bikinis, exposing in films and taking up bold characters. She has been selecting the films that are most important to the character. But looks like on social media, all these boundaries have been erased. 
Akkineni fans were hurt when she shared bikini photos a while ago. Samantha was trolled as she has gotten married into such a famous family and why was she wearing such dresses. Samantha gave a stern warning to all the trolls that nobody should tell her as to how she will have to dress up. Samantha who went to Maldives to celebrate Naga Chaitanya's Birthday has shared a bikini picture of herself sitting in bathtub which is going viral again in the social media.