We shall take all the necessary action to protect the Telugu film industry. KCR said the government would provide subsidies and exemptions to recover from the damage caused to the industry and workers by the cessation of shootings and the closure of theatres due to Covid. Several dignitaries from the film industry met CM KCR at Pragati Bhavan on Sunday and described the damage caused due to Covid and requested for a help from government. Chief Minister KCR responded positively to this.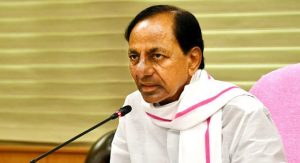 "The government is taking a number of steps to bring industries to the state. What if such an industry is not protected? Hyderabad has the largest film industry in the country along with Mumbai and Chennai. Millions of people find employment through this industry. The film industry was in trouble because of Covid. Everyone has a responsibility to protect the industry under these circumstances. Both the government and the film industry leaders must work together to protect the industry. We will take all measures to support the film industry. We will address issues related to the film industry in the manifesto released by the TRS party during the GHMC elections," the Chief Minister said.  
Chief Secretary Somesh Kumar, eminent film heroes Chiranjeevi and Nagarjuna, Film Chamber President, General Secretaries Narayan Das Narang, K L Damodar Prasad, Producers Association President C. Kalyan, Distributor Sudhakar Reddy, Producer Niranjan Reddy and others were present. They have decided to soon meet again at hero Chiranjeevi's home to discuss the development of the film industry more extensively.