In a sensational twist, Indo Canadian porn star Sunny Leone topped the merit list of Kolkota college. Kolkota's Ashutosh College released the first list for admission to BA (Honours) in English. Much to the surprise of all, the name of Sunny Leone found the top place.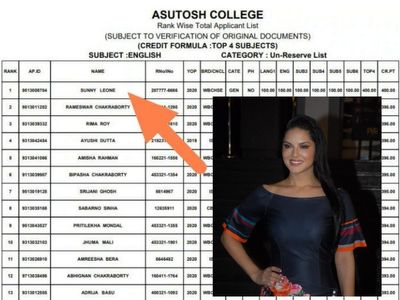 The list had the actor's name at the top. It was accompanied by application ID 9513008704, roll number- 207777-6666, and the year of passing 2020 from the West Bengal Council of Higher Secondary Education. According to the list, Sunnny Leone scored 400/400 in the best four subjects in class 12 board examinations. This is going viral on social media. Sunny Leone reacting to the news, shared her feelings posting "See you all in college next semester!!! Hope your in my class ;),"
College officials told that some one mischieviously submitted a wrong application. However the name was later changed to ABC but other details remained the same. Similar goof up happened last year when Republic Channel pronounced Sunny Deol as Sunny Leone leading the elections. At that time also Sunny replied questioning "Leading by How many votes ????"typing Sunny Leone's name.