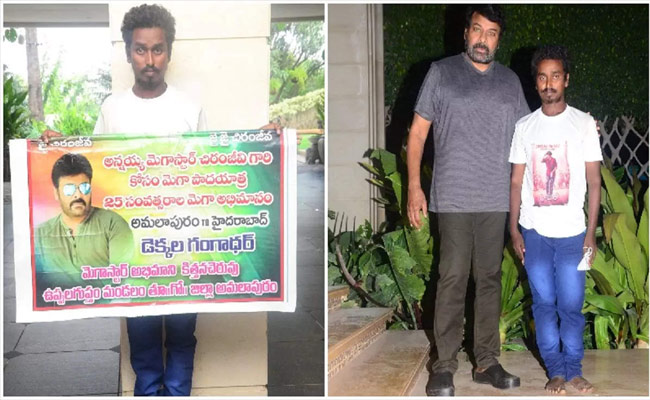 Chiranjeevi is currently busy with numerous projects like Acharya, Bhola Shankar, Godfather and a film under Bobby's direction.Even at this age Chiranjeevi drives all movie lovers crazy and turns many of them into his die hard fans. Many of his die hard fans compete to get a glimpse of him and get a selfie clicked with him and for that they go to any extent.
Manytimes, his fans walked all the way or cycled all the way from their native place to reach his houseand meet him. Chiranjeevi also never disappointed his fans who came to his house to meet him. Now a specially talented man shocked all by walking mover than 700 km to meet Chiranjeevi in Hyderabad.
Dekkela Gangadhar from Kittenacheruvu, Uppalagudem Mandal who is differently-abled walked from his place and reached Chiranjeevi Blood Bank at Jubilee Hills Hyderabad. Chiranjeevi who got shocked at Gangadhar's determination asked him to come to his house. He received Gangadhar cordially and inquired about his health and wellbeing and asked him not to repeat such feats in future. Gangadhar is superthrilled to meet Chiranjeevi in real life and he says his life ambition is fulfilled.