Rating: 2.75/5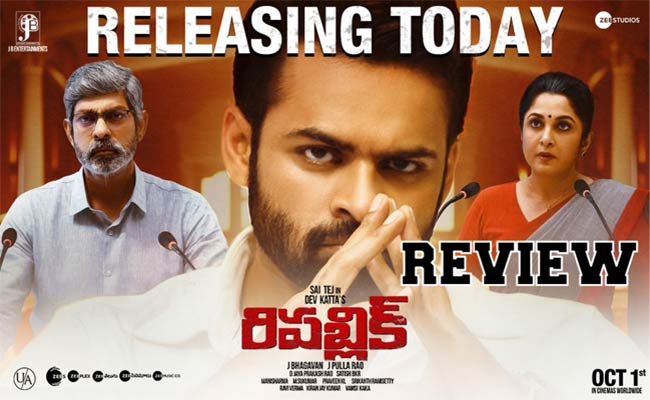 Cast: Sai Dharam Tej, Aishwarya Rajesh, Jagapath Babu, Ramya Krishna, Subbaraju, Rahul Ramakrishna, Sai Dheena, and others
Director: Deva Katta
Music: Mani Sharma
Cinematography: M.Sukumar
Editing: Praveen KL
Producers: J.Bhagavan, Pulla Rao
Banner: JB Entertainments ,ZEE Studios
Sai Dharam Tej, Aishwarya Rajesh's Republic directed by Deva Katta hit the screens today. Here is the film's mini-review.
Panja Abiram (Sai Dharam Tej) turns IAS Officer after being confronted with the corrupt political system and challenged by people not to be a meek spectator but enter the system and do what he aspires to rather than preach. Abiram's righteous approach as the district collector lands him in a direct confrontation with powerful politician Visakha Vani (Ramya Krishna). What happens next forms Republic story.
Sai Dharam Tej performed well and came with balanced emotions and expressions while delivering powerful dialogues. Ramya Krishna performed well and attracts as a powerful politician. Japathy Babu, Aishwarya Rajesh, Rahul Ramakrishna, Srikanth Iyengar, and others performed accordingly.
Deva Katta came with a hard-hitting political entertainer. Dialogues are powerful but lack of entertainment undid the film. The screenplay is uneven and the slow pace tests the patience of the viewers. The BGM of Manisharma is good. The cinematography of Sukumar is beautiful and the editing of Praveen could have been better. Production values are good.