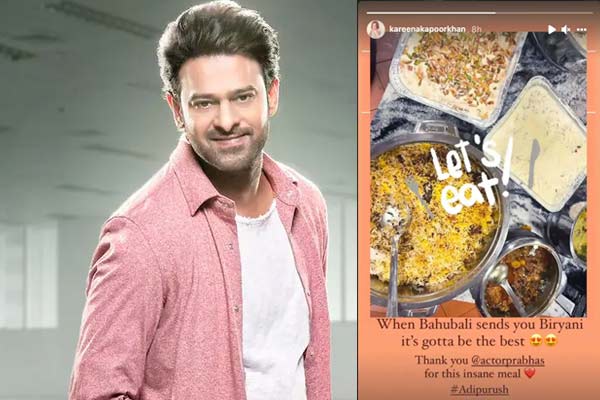 Young Rebel Star Prabhas is currently starring in Adi Purush under the direction of Om Raut of Tanhaji fame. The film's shooting is in full swing in Mumbai and Prabhas is shooting for the high octane action scenes. Now reports are coming that Prabhas gave biryani blast to Saif Ali Khan. Prabhas surprised Saif Ali Khan with the homemade biryani treat. Saif sent the same to his wife Kareena.
Kareena Kapoor who tasted the biryani shared her feelings in the following manner. She posted ' When Bahubali sends you biryani it's gotta be the best. Thank you Prabhas for this insane meal'. The snap of mouthwatering biryani is driving all the fans and movie lovers crazy.
Adi Purush directed by Om Raut stars Prabhas, Kriti Sanon and Saif Ali Khan in the roles of Lord Ram, Goddess Sita and Demon King Ravan respectively.