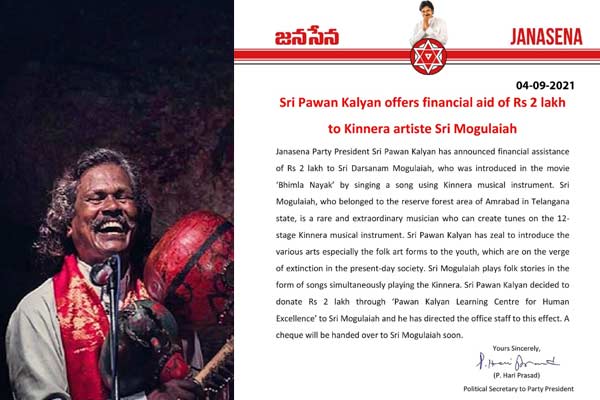 Power Star Pawan Kalyan is known for his helping nature and generous attitude. He is currently starring in many projects and his film Bheemla Nayak is generating immense interest.
The title song released on Pawan's birthday went viral and many started talking about the singer Darsanam Mogulaiah. Inside talk is Pawan inquired and called and offered Darsanam Mogulaiah the singing offer. Darsanam Mogulaiah said Pawan has taken good care of him and added that he never looked for money and did not even ask CM KCR for money but did not refuse when CM KCR gave him Rs 10000.
He said the Telangana government recognized him and his talent. Pawan Kalyan in the meanwhile delighted all by giving Rs 2 lakhs financial aid to Darsanam Mogulaiah. Pawan is known to encourage raw and hidden talent by giving offers in his films.