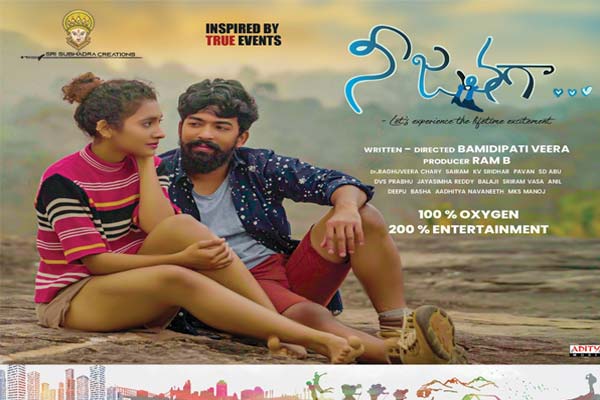 Rating:- 3/5
Lead Actors:- Bharath Bandaru, Gnaneshwari, Pravan Kumar, Nayani Pavani, Balraju Pulusu, Deepak Dagani and others.
Music Director:- PAVAN
BGM/Climax song: SD Abu
Editor:- Prabhu
Producer:- Ram. B
Director:- Bhamidipati Veera
Story:
This film is started with a scenario between Himanshu ( Bharath Bandaru ) and his friend Pavani who had on their trekking. Besides this Sahasra ( Gnaneshwari ) is also on trekking with her social media friend. All of a sudden Sahasra is missed in the forest and lot of drama, suspense. In the process of Searching over missed Sahasra, Himanshu started narrating his beautiful love Story. At a certain point in time, Both Himanshu and Sahasra are fell in love. What happened to these love birds? What are the problems faced by them in the trekking? If you want to know the reasons behind it, watch this film on Big screen.
Positives:-
*Even though all the castings are new faces, but their performance will steal the audience's appreciation especially Bharath Bandaru, Gnaneshwari, Pravan Kumar, Nayani Pavani, Sunil Raj, Balraju Pulusu, Deepak Dagani, Deepu salla, Lipika Ghosh and Bhasha performances are top-notch.
* Director Bhumidipati Veera's vision towards this film is great. He narrated the entire film without any sidetracks and an excellent composition of all elements of entertainment. Especially BGM and music is top remember for longer.
* Production values are good.
* Music and Background scores are decent.
* Cinematography is Great.
Flip Side:-
* Nothing to say.
Overall:-
Nee Jathaga is an out-and-out Youthful Entertainer who can watch out with family. This is such a beautifully picturized film which can be loved by family audiences too. The entire credits go to the director as his vision is to stick to the story. Besides lead actors, Bharath Bandaru, Nayani Pavani, Gnaneshwari, Pravan , Deepu sallaDeepak Dagani and Bhasha will steal the show with their mature performance. Songs, background scores are their best. Production values are good. Overall Nee Jathaga is a must-watch film this weekend. Enjoy with your families and enter into the world of beautiful love story.