Heroes from Mega family are queuing up one after the other. When it comes to heroines, only the daughter of mega brother Nagababu is the heroine on the silver screen. She first became closer to audience through web series later made silver screen entry through 'Oka Manasu' movie which bombed at the Box Office. She made a film called Happy Wedding which also disappointed fans.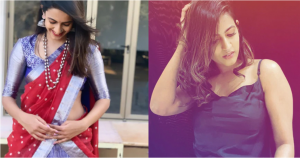 Although all her movies have failed at box office, her craze amongst the audience did not go down. She has been entertaining her fans to the fullest, especially through social media, through which she has given a shocking news to everyone. Everyone was shocked when she announced her engagement with Chaitanya Jonnalagadda. Fans are worried if she will stop acting in movies after her marriage. But there is no such thing, the fans were overjoyed when she announced that she will make movies even after marriage. 
They are getting married on December 9th at 7:15 pm at Uday Vilas in Udaipur, Rajasthan. Varun Tej is taking care of the wedding arrangements. Since the wedding is only another month away, she is doing a lot of photoshoots. While some photos related to the latest photo shoot have been circulating on social media, it is said that these photos have shaken up the social media.