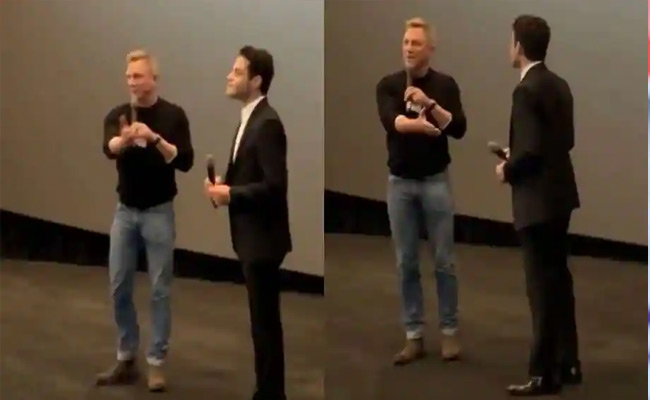 James Bond's latest flick No Time To Die released in a spectacular manner across the USA on October 8. People thronged the theatres to watch No Time To Die in theatres. The audience at Burbank IMAX got a thrilling surprise when Daniel Craig and Rami Malek visited Burbank IMAX.
Not only Daniel Craig visited but he surprised all saying ' I'd like to introduce you to someone' and amidst cheers from the audience, he said ' This is the great, Oscar winning actor Mr.Rami Malek'. Malek surprised everyone by saying ' and this is one of the greatest actors of all time. This is Daniel Craig'. Daniel Craig said the film is made for IMAX viewing but added that he hadnot seen the film in IMAX.
The Thursday box office previews clocked a whopping $ 6.3 million and it is the highest in Bond's US preview number which is 19% more than Spectre's $5.25 million. The film is getting rave reviews from all quarters and many of them has given 5 stars for the film.