Anchor Varshini Hyper Adi Combination is an eye treat for the audience. The war of words and satires that they throw at each other are outrageous, that chemistry was well-liked by the masses. The two were also married at one point on a show. Countless time news has gone viral on YouTube that Aadhi and Varshini are in love and that they are going to married. However, Aadi and Varshini responded by denying that they were just rumours.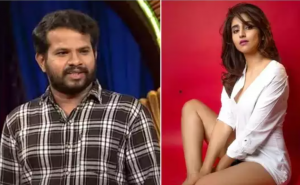 In a recent interview, they gave a clarity and said that they are very good friends. On top of that Aadhi also mentioned How innocent Varshini is on the set, how their introduction took place, and what was their first clash and spoke about so many other things. That's not all, the energy & the entertainment that they give to the audience through 'Dhee' show is humongous. The reverse of Jabardasth where Aadhi comments and throws satires on everyone happens to him on Dhee.  
In a recently released promo, Varshini defamed Aadhi. The entry features a catchy song. We could see Aadhi and Varshini entering the stage from opposite sides, and as soon as Aadhi entered the stage he asked Pradeep if she (Varshini) will ever fall for him to which Pradeep responded 'Try and try until you succeed'. Aadhi went on to say to that Varshini 'you should always be below me, and as soon as you enter the stage you should me' to which Varshini countered back stating he should be ashamed of talking like this. It remains to see if this reel life chemistry would turn out to be a real life chemistry too.