Rating: 2.75/5.0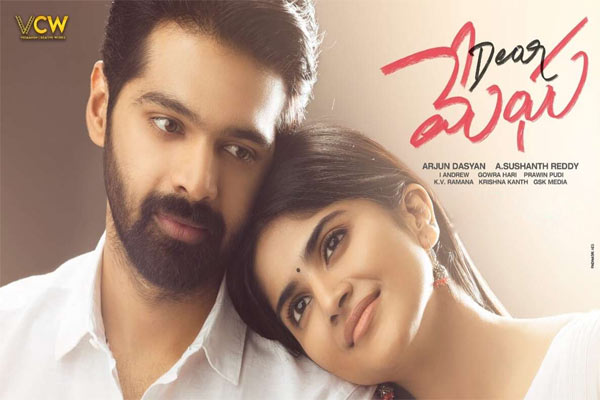 Cast: Arun Adith, Megha Akash, Arjun Somayajulu, Pavitra Lokesh, and others
Director: Sushanth Reddy
Music: Hari Gowra
Cinematography: Andrew
Editing: Prawin Pudi
Producers: Arjun Dasyan
Banner: Vedaansh Creative Works
Release: 3,September 2021
Arun Adith, Megha Akash's Dear Megha directed by Sushant Reddy released today. Here is its mini-review.
Megha Swaroop (Megha Akash) falls in love with Arjun (Arjun Somayajulu). After initial hiccups, they express to each other. Suddenly a tragedy happens and Megha gets a shock when she knows that Arjun is no more. She for a change, shifts to another location and there she meets Aadi (Arun Adith). When everything is going smoothly she gets another shock. To find out more watch Dear Megha in theatres.
Sushant Reddy came with a story to surprise viewers. Though the story is good, he failed with his screenplay and direction. Megha Akash and Arun Adith performed well but failed to elevate the scenes at times. The music of Hari Gowra and the Cinematography of Andrew beautified the film. Editing of Prawin Pudi could have been better. Dear Megha which is a remake of the Kannada film Dia, though shocks with the climax, failed to highlight the emotions.