Akhil, Abhijeet and Harika, who earned Stars in the Commando Institute Task, were selected as captaincy contenders. These three have to convince the rest of the housemates to sit on their shoulders. Whoever stays on the shoulders for a long time without going down and crossing the box becomes the captain of the house. Akhil chose Sohel, Harika chose Monal and Abhijeet Chose Avinash.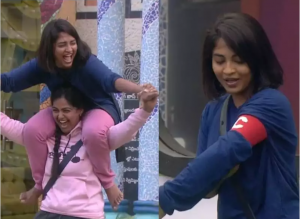 At first Avinash could not bear the weight of Abhijeet and dropped out of the task. Sohel who said he will hold Akhil and stand how much ever time is needed fell down onto his knees. With this Harika who sat on Monal's shoulders became the captain. She was overwhelmed with joy that she wore Noel's shirt and played the task and as promised to her mother she has become the captain of the house. 
Harika finally became the captain. Harika, who had lost the last eight times as a captaincy contestant, fulfilled her wish this time with the help of Monal. On one hand Akhil was frustrated with the loss of captaincy that Sohel could not stand for long time holding him and on top of it Monal helping Harika win the task added fuel to the fire. Akhil swayed with frustration that Monal had not helped him when he needed it. Monal defended her work by saying that I helped those who believed in her and played the game like a game.