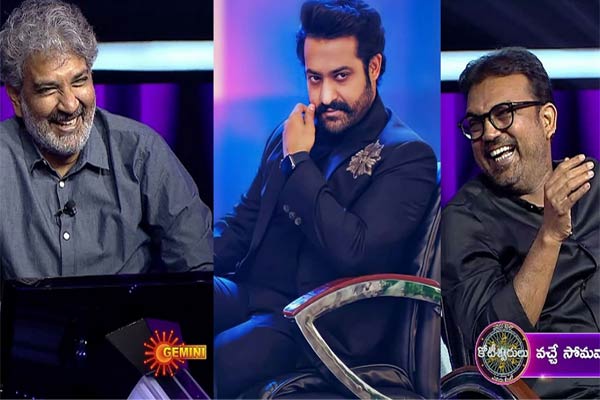 Young Tiger NTR's reality shows Evaru Meelo Koteeswarulu (EMK) is attracting the attention of all. NTR with his extempore dialogues, expressions, and emotions thrilling the participants in between while asking them though questions.
It is known that EMK got off to a sensational start with Ram Charan participating in the program and sitting on the hot seat. Right after that, no celebrity attended the event. This is disappointing the fans.
In order to thrill fans, the organizers roped in other star celebrities. Star directors Rajamouli and Koratala Shiva will be participating in NTR's EMK. Already the promo video is thrilling viewers as NTR stopped Rajamouli asking him that he is not the director in the show. Fans are waiting eagerly to enjoy the episode on the small screen as NTR asked Rajamouli and Koratala Shiva many secrets and they too shared them much to the delight of one and all.