Rating: 1.5/5
Cast:Munna, Drishika Chander, Ravi Varma, Subbarao, Prabhavathi
Director:Krishna Poluru
Producer:Pamidimukkala Chandra Kumari
Music: Mihiraamsh
Cinematography:Ram Mahesan
Editing: Marthand K Venkatesh
OTT APP: Aha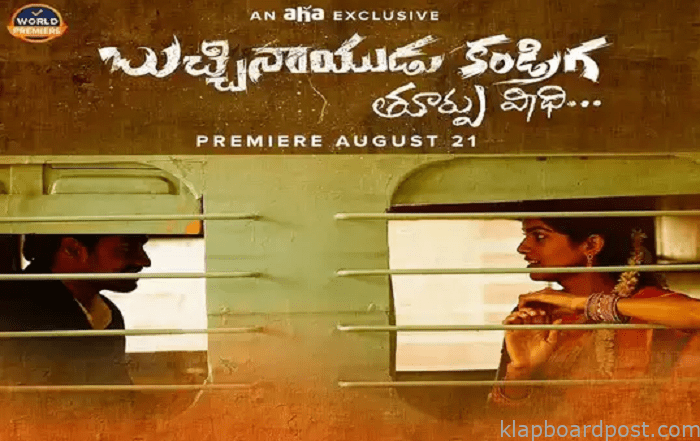 Storyline
Balu (Munna) falls in love with his beautiful girl Swapna (Drushika Chander),his neighbor. After sometime ,she also starts showing affection and soon falls in love.
However they face hurdles in their blossoming love story when Swapna's father Veera Swamy (Ravi Varma) rejects their love as he believes in caste and prestige. To findout whether they win their love and what difficulties they face, watch Buchinaidu Kandriga Thurpu Veedhi on Aha OTT.
Starshine
New comers Munna and Drushika worked hard and impressed all with their performances. Drushika scored over Munna in the emotional scenes. He should have improved on it. Subba Rao of C/O Kancherapalem attracted with his performance. Ravi Varma did well as the father of heroine. Lambu, Jambu attracted their comedy to some extent. Others performed according to their roles.
Director's Special
Director Krishna Poluru came with a routine story that viewers watched for decades on and off the screen. He started off on an interesting note attracting the childhood episodes of the hero and heroine. The village atmosphere and realistic visuals keep viewers interested. However from then on,he fails to connect emotionally with the viewers. Lack of entertainment and dragged second half tested the patience of the viewers. He failed completely with his story, screenplay, and direction.
Technical
Mihiraamsh attracted with his backgrond music. He made a good impact with his songs and tunes. Cinematography of Ram Maheshan beautified the film capturing the scenic locations in an appealing manner. Both Mihiraamsh and Ram Maheshan took viewers into the film with their beautiful work. Editing of Marthand K Venkatesh however left a lot to be desired. There are many drags in the film which dragged the pace of the film. Production values are ok.
Viewers Talk
Buchinaidu Kandriga Turpu Veedhi fails to lay road to the success lane.