A mother-son duo, who returned from the UK recently, were traced and admitted to the district hospital in Andhra's East Godavari, while the sample of the Covid-positive woman is being tested to ascertain if she is carrying the new mutated strain.
The woman, 47, and her son, 22, landed in Delhi on Monday night.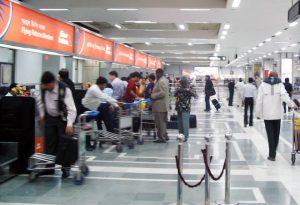 Delhi airport authorities tested them with the rapid antigen test and found them to be positive," an official statement said.
Following the positive result, the duo was sent to Safdarjung Hospital, where both were found to be asymptomatic.
The woman tested positive for the virus under the RT-PCR test as well, prompting officials to send her swab sample to the National Institute of Virology (NIV) in Pune to check if she has been infected with the new strain.
The hospital advised home isolation for her.
"So they travelled on the morning of Tuesday from Delhi by AP special express (train) and reached Rajahmundry on Thursday midnight," the statement state.
On reaching Rajamahendravaram (Rajahmundry), railway police and local police traced the duo and sent them to the district hospital for quarantining.
On Thursday morning, they underwent another round of rapid antigen tests, in which the mother was positive while her son tested negative.
Officials have also subjected them to RT-PCR and VLM tests, whose results are awaited, along with the findings from the NIV.